235 On Market
Neighborhood: Marina
Address:  235 Market
Year Built:  2001
Stories:  6
Units:  57
Property Management Company:  Prescott - 619.230.1891
235 On Market is centrally located on Market Street between 2nd and 3rd streets in the heart of the Marina District.  It's within walking distance of Seaport Village, Gaslamp Quarter, Ralph's, Convention Centre, the Harbor and Horton Plaza. This 6-story residential building is over 1 level of basement parking.
Floor plans are between one & two bedroom condominiums with dens and balconies [1& 2 respectively] ranging from 700 Sq. ft. to 1300 Sq. ft. The interiors at 235 on Market are luxurious with Plush Carpeting throughout the living areas, GE Appliances in Black & White [Refrigerator, Oven, Microwave, Washer Dryer, Multi cycle Dishwasher], Dual glazed windows, Dual glazed porch and balcony doors, not to mention a Roof deck with Spa, Sun Deck, Barbecue, Landscaping and other luxury features.
235 on Market is a wood framed colorful exterior in Cream, Brick and splashes of Purple finished with stucco work give a unique character to the corner structure and a stunning contrast to the neighborhood. The project commenced in February 2000 with an August 2001 completion. The complex has everything you will ever need. With its easy access to the highway, bay, other downtown communities and the neighborhood's self sufficiency, its not just property; it's a whole new lifestyle!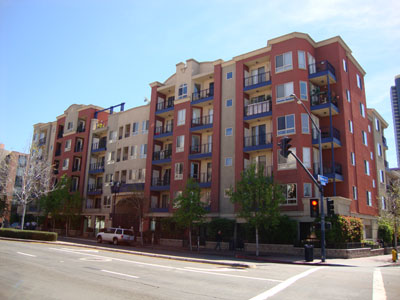 235 On Market - Condos & Lofts For Sale:
235 On Market - Recent Closings / Sales
| Closed | Unit# | Sale price | Bed | Bath | Sqft | Price/SqFT |
| --- | --- | --- | --- | --- | --- | --- |
| 03/15/2023 | #407 | $769,000 | 3 | 2 | 1,768 | 435 |
| 11/18/2022 | #601 | $779,000 | 2+ | 2 | 1,308 | 596 |
| 10/19/2022 | #401 | $725,000 | 2+ | 2 | 1,308 | 554 |
| 08/05/2022 | #610 | $619,000 | 1 | 1 | 1,036 | 597 |
| 07/15/2022 | #212 | $715,000 | 2 | 2 | 1,123 | 637 |
| 07/05/2022 | #201 | $735,000 | 2+ | 2 | 1,308 | 562 |
| 03/30/2022 | #404 | $580,000 | 1 | 1 | 718 | 808 |
| 01/03/2022 | #303 | $455,000 | 1 | 1 | 734 | 620 |
| 10/14/2021 | #210 | $540,000 | 1+ | 1 | 1,036 | 521 |
| 07/22/2021 | #510 | $500,000 | 1+ | 1 | 1,036 | 483 |
| 04/20/2021 | #405 | $605,000 | 2 | 2 | 1,063 | 569 |
| 02/02/2021 | #302 | $587,000 | 2 | 2 | 1,069 | 549 |
| 12/01/2020 | #602 | $590,000 | 2 | 2 | 1,069 | 552 |
| 07/28/2020 | #308 | $412,450 | 1 | 1 | 923 | 447 |
| 10/15/2019 | #101 | $369,000 | 1 | 1 | 880 | 419 |
235 On Market - All Closings / Sales History
235 On Market - Available Rentals
235 On Market - Recently Rented
| Closed | Unit# | Sale price | Bed | Bath | Sqft | Price/SqFT |
| --- | --- | --- | --- | --- | --- | --- |
| 07/25/2022 | #102 | $3,250 | 2 | 2 | 1,108 | 3 |
| 12/29/2021 | #201 | $2,900 | 2+ | 2 | 1,308 | 2 |
| 01/03/2021 | #602 | $3,000 | 2 | 2 | 1,069 | 3 |
| 11/06/2020 | #201 | $2,650 | 2+ | 2 | 1,308 | 2 |
| 10/16/2020 | #206 | $2,700 | 2+ | 2 | 1,308 | 2 |
| 10/08/2020 | #210 | $2,195 | 1+ | 1 | 1,036 | 2 |
| 11/20/2019 | #510 | $1,995 | 1+ | 1 | 1,036 | 2 |
| 11/12/2019 | #206 | $2,650 | 2+ | 2 | 1,308 | 2 |
| 07/17/2019 | #606 | $2,799 | 2+ | 2 | 1,308 | 2 |
| 02/09/2019 | #608 | $2,400 | 2 | 1 | 860 | 3 |
| 01/08/2019 | #206 | $2,800 | 2+ | 2 | 1,308 | 2 |
| 12/28/2018 | #302 | $2,800 | 2 | 2 | 1,069 | 3 |
| 10/05/2018 | #206 | $2,800 | 2+ | 2 | 1,308 | 2 |
| 08/01/2018 | #509 | $2,450 | 2 | 2 | 982 | 2 |
| 11/02/2017 | #509 | $2,350 | 2 | 2 | 982 | 2 |