Alta
Neighborhood: Gaslamp
Address:  575 6th
Year Built:  2007
Stories:  21
Units:  179
Property Management Company:  NNJ - 858.550.7900
Alta is a 21 story mixed use complex perfectly positioned on Market between 6th & 7th Avenues in the Gaslamp Quarter and a few steps away from Horton Plaza & Petco Park. Anka Development's project houses 179 condominiums and 11,800 Sq. ft. of retail space. Units are available as Studios, 1& 2 bedrooms. The 256 parking spaces provide ample parking.
Alta San Diego Downtown condos are designed in a European style decor by award winning designer Mitchell Freedland. Key features are Laminated Hardwood floors, large private terraces, Window Walls with lots of Natural Light, Designer lighting Fixtures & Finishes, Ceramic & Stone style bath and shower, High Speed Internet Access & Stainless Steel Appliances.
The complex offers many amenities including an Electronic access entry with intercom, Gated Entry Underground Parking and Professional Property Management. Roof-top decks at Alta are ideal for stargazing or entertaining. Upper floors offer Spectacular views of the city & the scenic San Diego Bay.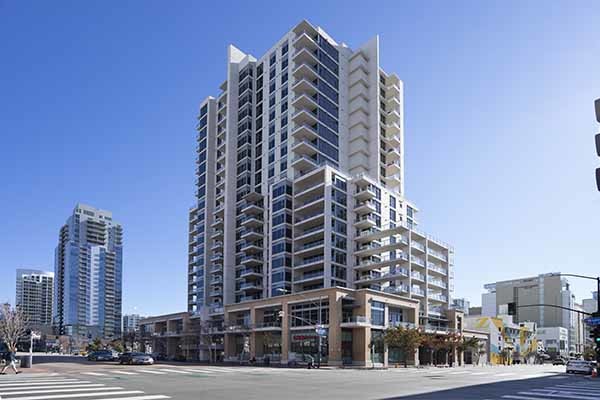 Alta - Condos & Lofts For Sale:
#905
Price:


$588,000

Beds:
1
Baths:
1
Sq.Ft.:
679
Community:
Gaslamp
Listed:
07/01/2023
MLS#:
305962945
Office Info:
Will Puente, Broker
Alta - Recent Closings / Sales
| Closed | Unit# | Sale price | Bed | Bath | Sqft | Price/SqFT |
| --- | --- | --- | --- | --- | --- | --- |
| 03/02/2023 | #1106 | $839,000 | 2 | 2 | 1,144 | 733 |
| 12/30/2022 | #1301 | $673,000 | 1 | 1 | 750 | 897 |
| 12/28/2022 | #1104 | $725,000 | 2 | 1 | 960 | 755 |
| 12/22/2022 | #1805 | $1,200,000 | 2 | 2 | 1,195 | 1004 |
| 11/23/2022 | #507 | $531,000 | 1 | 1 | 679 | 782 |
| 10/20/2022 | #803 | $458,250 | 0 | 1 | 482 | 951 |
| 09/02/2022 | #208 | $555,000 | 1 | 1 | 663 | 837 |
| 08/29/2022 | #1402 | $950,000 | 2 | 2 | 1,013 | 938 |
| 06/10/2022 | #903 | $449,900 | 0 | 1 | 482 | 933 |
| 06/08/2022 | #901 | $570,000 | 1 | 1 | 653 | 873 |
| 05/10/2022 | #611 | $580,000 | 1 | 1 | 653 | 888 |
| 04/29/2022 | #809 | $522,000 | 0 | 1 | 482 | 1083 |
| 04/28/2022 | #607 | $590,000 | 1 | 1 | 679 | 869 |
| 04/27/2022 | #1406 | $1,135,000 | 2 | 2 | 1,227 | 925 |
| 04/26/2022 | #709 | $425,000 | 0 | 1 | 482 | 882 |
Alta - All Closings / Sales History
Alta - Available Rentals
#1901
Price:


$3,350

Beds:
1
Baths:
1
Sq.Ft.:
750
Community:
Gaslamp
Listed:
07/07/2023
MLS#:
230013023
Office Info:
Coldwell Banker Realty
Alta - Recently Rented
| Closed | Unit# | Sale price | Bed | Bath | Sqft | Price/SqFT |
| --- | --- | --- | --- | --- | --- | --- |
| 01/04/2023 | #408 | $3,000 | 2 | 1 | 960 | 3 |
| 08/10/2022 | #1901 | $3,100 | 1 | 1 | 750 | 4 |
| 03/07/2022 | #602 | $3,600 | 2 | 2 | 1,032 | 3 |
| 01/08/2022 | #504 | $2,950 | 2 | 1 | 960 | 3 |
| 01/04/2022 | #408 | $3,000 | 2 | 1 | 960 | 3 |
| 11/05/2021 | #411 | $2,400 | 1 | 1 | 653 | 4 |
| 08/25/2021 | #504 | $2,850 | 2 | 1 | 960 | 3 |
| 08/09/2021 | #1802 | $3,300 | 2 | 2 | 1,013 | 3 |
| 05/06/2021 | #802 | $3,400 | 2 | 2 | 1,032 | 3 |
| 02/19/2021 | #1405 | $4,150 | 2 | 2 | 1,195 | 3 |
| 02/18/2021 | #1901 | $3,100 | 1 | 1 | 750 | 4 |
| 01/22/2021 | #1004 | $2,695 | 2 | 1 | 960 | 3 |
| 01/01/2021 | #704 | $3,450 | 2 | 1 | 960 | 4 |
| 11/23/2020 | #1502 | $2,995 | 2 | 2 | 1,013 | 3 |
| 10/30/2020 | #907 | $2,300 | 1 | 1 | 679 | 3 |