Aperture
Neighborhood: Little Italy
Address:  1494 Union
Year Built:  2007
Stories:  11
Units:  86
Property Management Company:  FirstService Residential - 858.457.0200
Located at Union & Beech in Little Italy District in Downtown San Diego, Aperture is an 11 story complex housing 86 condominiums and 4,000 Sq. ft. of retail space on the ground floor and 131 spaces of Subterranean Parking. Studios, 1 Bedroom, 2 Bedrooms and Penthouses are available ranging from 750 to 2158 Sq. ft. A chic urban home in a quaint old world neighborhood by Citymark Development, the downtown complex has been designed by KMA Architecture & Engineering. Construction began in fall 2005 with a fall 2007 construction.
Aperture Condos & Lofts are tastefully decorated with Designer selected Grohe Chrome fixtures, Granite slab countertops, European maple cabinetry, Stainless Steel dual sink and Grohe Alira chrome pullout faucets. Stainless Steel GE Profile Series appliances including 30 gas cook top with sealed burners, 30 self cleaning oven with microwave, Energy efficient dishwasher, Energy efficient air conditioning and forced air heating and Interior washer/dryer hookups. Cabling is built in for High Speed Internet Access. Window Walls touch the 10 foot exposed concrete ceilings. The Windows are Dual glazed with low-emission glass. Private Decks provide for solidarity when needed.
Little Italy still retains an old world charm. It is a very vibrant neighborhood which hosts half a dozen events annually. Prominent amongst them are the Festa, The Art walk, Chalk La Strada, Carnevale. Stepping out of Aperture you enter a culturally rich neighborhood with unique galleries, boutiques, friendly neighbors and fresh markets. Amici Park serves as a playground where residents play Bocce Ball. Cafes are scattered throughout and there are chairs on every corner to sit on and observe an idyllic day go by.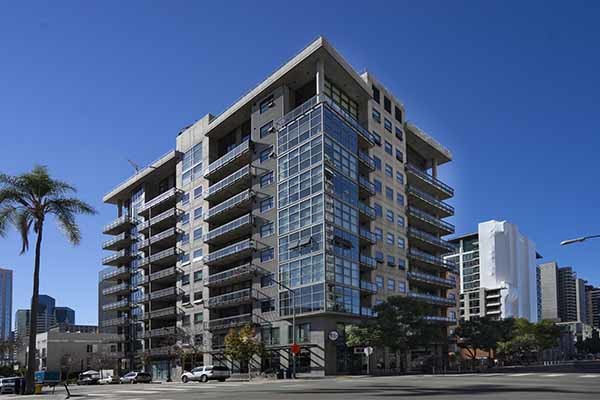 Aperture - Condos & Lofts For Sale:
Aperture - Recent Closings / Sales
| Closed | Unit# | Sale price | Bed | Bath | Sqft | Price/SqFT |
| --- | --- | --- | --- | --- | --- | --- |
| 10/25/2022 | #503 | $578,000 | 1 | 1 | 750 | 771 |
| 09/06/2022 | #1008 | $930,000 | 1 | 1 | 1,305 | 713 |
| 09/06/2022 | #302 | $850,000 | 2 | 2 | 1,172 | 725 |
| 08/23/2022 | #602 | $875,000 | 2 | 2 | 1,172 | 747 |
| 05/19/2022 | #202 | $869,000 | 2 | 2 | 1,172 | 741 |
| 05/12/2022 | #209 | $675,000 | 1 | 1 | 903 | 748 |
| 03/22/2022 | #407 | $640,000 | 1 | 1 | 923 | 693 |
| 03/08/2022 | #606 | $650,000 | 1 | 1 | 847 | 767 |
| 12/30/2021 | #307 | $740,000 | 1 | 1 | 923 | 802 |
| 12/06/2021 | #701 | $900,000 | 2 | 2 | 1,228 | 733 |
| 09/23/2021 | #705 | $925,000 | 2 | 2 | 1,313 | 704 |
| 06/02/2021 | #906 | $595,000 | 1 | 1 | 847 | 702 |
| 03/26/2021 | #303 | $528,000 | 1 | 1 | 870 | 607 |
| 03/22/2021 | #1007 | $1,165,000 | 2 | 2 | 1,651 | 706 |
| 12/23/2020 | #604 | $865,000 | 2 | 2 | 1,282 | 675 |
Aperture - All Closings / Sales History
Aperture - Available Rentals
Aperture - Recently Rented
| Closed | Unit# | Sale price | Bed | Bath | Sqft | Price/SqFT |
| --- | --- | --- | --- | --- | --- | --- |
| 11/04/2021 | #705 | $4,600 | 2 | 2 | 1,313 | 4 |
| 04/23/2020 | #403 | $2,400 | 1 | 1 | 750 | 3 |
| 03/23/2020 | #201 | $3,695,000 | 2 | 2 | 1,228 | 3009 |
| 02/20/2020 | #403 | $2,550 | 1 | 1 | 750 | 3 |
| 06/19/2019 | #107 | $3,100 | 2 | 2 | 1,360 | 2 |
| 03/29/2019 | #502 | $3,100 | 2 | 2 | 1,172 | 3 |
| 02/25/2019 | #405 | $3,400 | 2+ | 2 | 1,351 | 3 |
| 08/18/2018 | #1005 | $4,250 | 2 | 2 | 1,758 | 2 |
| 05/24/2018 | #508 | $2,350 | 1 | 1 | 873 | 3 |
| 12/04/2017 | #405 | $4,500 | 2+ | 2 | 1,351 | 3 |
| 10/17/2017 | #505 | $3,500 | 2 | 2 | 1,351 | 3 |
| 05/13/2017 | #107 | $3,150 | 2 | 2 | 1,360 | 2 |
| 11/22/2016 | #107 | $3,250 | 2 | 2 | 1,360 | 2 |
| 09/07/2016 | #209 | $2,120 | 1 | 1 | 903 | 2 |
| 05/24/2016 | #306 | $3,800 | 2 | 2 | 1,170 | 3 |