Aria
Neighborhood: Cortez Hill
Address:  1441 9th
Year Built:  2007
Stories:  24
Units:  137
Property Management Company:  NNJ 858.550.7900
At the northeast corner of Ninth Avenue & Ash Street in San Diego Downtown Cortez Hill neighborhood, Anka Development built a 24 story high rise with 137 downtown San Diego condos and 260 underground parking spaces. Construction on Aria began in October 2005 and completed in 2007.  ARIA in San Diego offers 17 different floor plans including 1 Bedroom + Den, 2 Bedroom and 3 Bedroom units ranging from 849 to 1,616 Sq. ft.
Architectural Firm Perkins & Company inspired architecture with window walls offer spectacular views of the City lights during night, fill the home with natural light in daytime, and overlooks downtown San Diego. Large Private Terraces and roof-top decks are ideal for entertaining or stargazing.
To the north is the lavish Balboa Park, from the west, Point Loma, El Cortez Hotel & San Diego Bay views, Coronado Bridge from the East, East Village and Petco Park from the South. Parking, Storage & Security are well taken care of. An equipped fitness center with lap pool and spa and a fabulous clubroom complete with a catering kitchen, wet-bar, home theatre and pool table are ideal to spend time and entertain guests in.
One hidden treasure around Aria is the historic Copley symphony hall where the San Diego symphony offers many concerts. It is just a few blocks away at the corner of 7th & B Street. The neighborhood named for the landmark El Cortez Hotel is elevated over Core district. For people who want to live close to businesses, recreation, restaurants and other amenities offered by downtown San Diego but prefer a quite residential Aria is the perfect place to live in.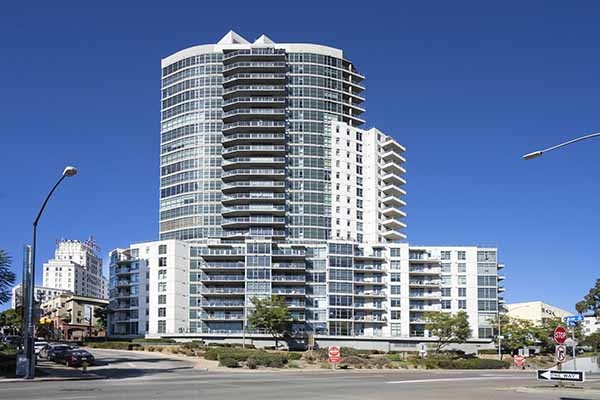 Aria - Condos & Lofts For Sale:
Aria - Recent Closings / Sales
| Closed | Unit# | Sale price | Bed | Bath | Sqft | Price/SqFT |
| --- | --- | --- | --- | --- | --- | --- |
| 04/11/2023 | #1602 | $820,000 | 2 | 2 | 1,251 | 655 |
| 02/09/2023 | #204 | $649,000 | 3 | 2 | 1,261 | 515 |
| 12/23/2022 | #209 | $502,000 | 1 | 1 | 870 | 577 |
| 11/29/2022 | #905 | $850,000 | 2 | 2 | 1,253 | 678 |
| 11/14/2022 | #1604 | $1,100,000 | 2 | 2 | 1,355 | 812 |
| 11/03/2022 | #1802 | $850,000 | 2 | 2 | 1,251 | 679 |
| 10/18/2022 | #310 | $470,000 | 1 | 1 | 849 | 554 |
| 09/27/2022 | #1401 | $849,900 | 2 | 2 | 1,235 | 688 |
| 07/27/2022 | #1803 | $1,100,000 | 2 | 2 | 1,371 | 802 |
| 07/08/2022 | #504 | $845,000 | 2+ | 2 | 1,261 | 670 |
| 06/10/2022 | #101 | $615,000 | 1+ | 1 | 1,005 | 612 |
| 05/20/2022 | #2103 | $1,128,000 | 2 | 2 | 1,355 | 832 |
| 04/21/2022 | #805 | $920,900 | 2 | 2 | 1,253 | 735 |
| 04/19/2022 | #802 | $950,000 | 2 | 2 | 1,251 | 759 |
| 03/30/2022 | #106 | $705,000 | 2 | 2 | 1,213 | 581 |
Aria - All Closings / Sales History
Aria - Available Rentals
#2202
Price:


$6,500

Beds:
2
Baths:
2
Sq.Ft.:
1,371
Community:
Cortez Hill
Listed:
03/30/2023
MLS#:
230005899
Office Info:
Compass
Aria - Recently Rented
| Closed | Unit# | Sale price | Bed | Bath | Sqft | Price/SqFT |
| --- | --- | --- | --- | --- | --- | --- |
| 05/01/2023 | #2102 | $5,200 | 2 | 2 | 1,371 | 4 |
| 03/21/2023 | #1003 | $4,300 | 2 | 2 | 1,371 | 3 |
| 09/16/2022 | #707 | $4,150 | 2 | 2 | 1,241 | 3 |
| 08/29/2022 | #1304 | $4,300 | 2 | 2 | 1,355 | 3 |
| 08/11/2022 | #2401 | $5,900 | 3 | 3 | 1,616 | 4 |
| 01/10/2022 | #2401 | $6,000 | 3 | 3 | 1,616 | 4 |
| 12/11/2021 | #204 | $3,600 | 3 | 2 | 1,261 | 3 |
| 10/31/2021 | #2102 | $4,200 | 2 | 2 | 1,371 | 3 |
| 09/14/2021 | #507 | $3,400 | 2 | 2 | 1,241 | 3 |
| 08/04/2021 | #2401 | $5,750 | 3 | 3 | 1,616 | 4 |
| 06/01/2021 | #2401 | $6,500 | 3 | 3 | 1,616 | 4 |
| 04/14/2021 | #701 | $2,850 | 2 | 2 | 1,113 | 3 |
| 02/24/2021 | #204 | $3,600 | 3 | 2 | 1,261 | 3 |
| 01/16/2021 | #2401 | $5,100 | 3 | 3 | 1,616 | 3 |
| 12/23/2020 | #205 | $3,095 | 3 | 2 | 1,400 | 2 |