Bella Via
Neighborhood: Little Italy
Address: 1608 India
Year Built: 2004
Stories: 6
Units: 41
Property Management Company: NNJ - 858.550.7900
Bella Via a 6 story mixed use project is developed by Bella Via Associates. Its Location is on the corner of India & Cedar Streets at 1608 India Street, in downtown San Diego Little Italy neighborhood. 41 residential condominiums and approximately 4,000 Sq. ft. of retail space above a 59 space parking garage. Construction began in August 2002 with a spring 2004 Completion.
The mid-rise complex is in the heart of Little Italy with Sushi Fix and other Restaurants on the Street Level. The complex consists of 1, 2 and 3 Bedroom units and some Upper units have beautiful Bay views. Washington Elementary school and Amici park which serves as a school playground and community park are nearby.
Church Bells from Our Lady of the Rosary, Catholic Church can be heard occasionally and the vibrant neighborhood hosts many art and cultural festivities annually including Festa, Art walk, Carnevale and Chalk La Strada a Bocce Ball Tournament. India Street is dotted with authentic Italian restaurants, small cafes, and shops. Life is Beautiful in Bella Via charming Little Italy neighborhood.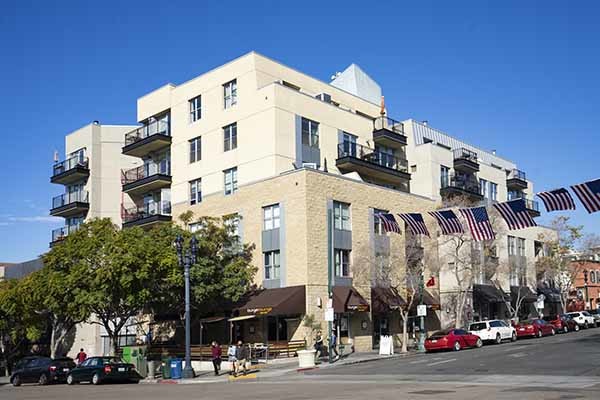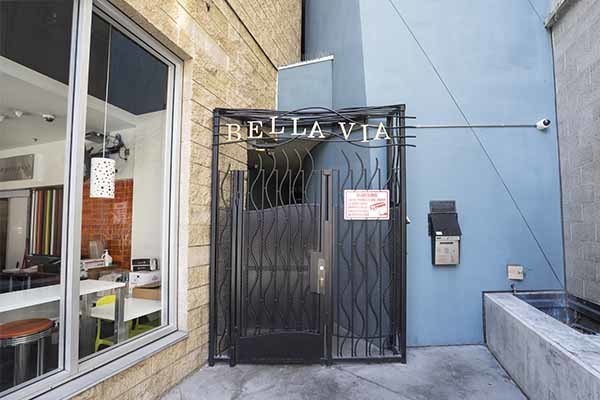 Bella Via - Condos & Lofts For Sale:
Bella Via - Recent Closings / Sales
| Closed | Unit# | Sale price | Bed | Bath | Sqft | Price/SqFT |
| --- | --- | --- | --- | --- | --- | --- |
| 04/08/2022 | #209 | $845,000 | 2 | 2 | 1,200 | 704 |
| 02/14/2022 | #307 | $845,000 | 2 | 2 | 1,383 | 611 |
| 01/18/2022 | #208 | $652,000 | 1 | 1 | 907 | 719 |
| 09/23/2020 | #409 | $680,000 | 2 | 2 | 1,102 | 617 |
| 07/17/2020 | #202 | $566,000 | 2 | 2 | 1,027 | 551 |
| 05/11/2020 | #302 | $580,000 | 2 | 2 | 1,010 | 574 |
| 11/18/2019 | #201 | $640,000 | 2 | 2 | 1,154 | 555 |
| 08/30/2019 | #501 | $645,000 | 2 | 2 | 1,154 | 559 |
| 03/01/2019 | #602 | $614,000 | 2 | 2 | 1,027 | 598 |
| 10/19/2018 | #204 | $475,000 | 1 | 1 | 1,005 | 473 |
| 06/28/2018 | #605 | $620,000 | 1 | 1 | 916 | 677 |
| 11/14/2017 | #301 | $640,000 | 2 | 2 | 1,154 | 555 |
| 06/09/2017 | #202 | $585,000 | 2 | 2 | 1,027 | 570 |
| 12/28/2016 | #7 | $475,000 | 1 | 1 | 800 | 594 |
| 11/04/2016 | #605 | $499,000 | 1 | 1 | 916 | 545 |
Bella Via - All Closings / Sales History
Bella Via - Available Rentals
Bella Via - Recently Rented
| Closed | Unit# | Sale price | Bed | Bath | Sqft | Price/SqFT |
| --- | --- | --- | --- | --- | --- | --- |
| 10/05/2020 | #204 | $2,800 | 1 | 1 | 1,005 | 3 |
| 09/04/2020 | #209 | $3,200 | 2 | 2 | 1,200 | 3 |
| 07/10/2020 | # | $2,975 | 2 | 2 | 1,383 | 2 |
| 05/02/2020 | #409 | $2,750 | 2 | 2 | 1,102 | 2 |
| 12/01/2019 | #202 | $2,795 | 2 | 2 | 1,027 | 3 |
| 08/01/2019 | #206 | $2,975,000 | 2 | 2 | 1,383 | 2151 |
| 04/07/2019 | #204 | $2,800 | 1 | 1 | 1,005 | 3 |
| 09/21/2018 | #408 | $2,500 | 1 | 1 | 777 | 3 |
| 09/15/2018 | #403 | $4,300 | 3 | 3 | 1,940 | 2 |
| 07/31/2018 | #209 | $3,100 | 2 | 2 | 1,200 | 3 |
| 06/14/2018 | #507 | $3,000 | 2 | 2 | 1,206 | 2 |
| 03/17/2018 | #302 | $2,800 | 2 | 2 | 1,010 | 3 |
| 02/12/2018 | #409 | $2,950 | 2 | 2 | 1,102 | 3 |
| 01/31/2018 | #206 | $2,800 | 2 | 2 | 1,383 | 2 |
| 07/09/2017 | #202 | $2,795 | 2 | 2 | 1,027 | 3 |