Columbia Place
Neighborhood: Marina
Address:  655 Columbia
Year Built:  1989
Stories:  4
Units:  103
Property Management Company:  S.H.E. - 619.291.6300
Columbia Place, located at 655 Columbia St. & 620 State is a 4-story, 103 unit development built in 1989.The complex offers spacious homes in the coveted Marina District in Downtown San Diego. 1 bedroom + 1 baths are approximately 735 Sq. ft. and 2 bedrooms +2 baths about 1,070 Sq. ft. in size.
Columbia Place has two separate gated entrances with key coded access and alarm systems for added security. A gym equipped with free weights, rowing machine and treadmill is available for use. It also has a bike storage area which is free for residents. Additionally locked and secure storage is available for a small fee. The Community meeting room can be used for small meetings. A Spa with outdoor shower for relaxing along with Barbecue and an outdoor picnic area with quaint tables, chairs & sundecks can be used for family gatherings or entertaining guests. Multiple courtyards provide space to walk around and for children to play. Two elevators have been recently remodeled. The complex its own recycling program and 150 underground parking spaces.
One of the main advantages of living in Columbia Place is connectivity. Along with being located in an entertainment and business hub, the complex is just a few minutes walking distance from the famous Gaslamp District, Horton Plaza Shopping Center, the Embarcadero, San Diego Convention Center, Cruise ships, and Petco Park-home of the San Diego Padres. Other attractions in the area including Old Town, San Diego Zoo, and Mexico are at just a short trolley rides distance.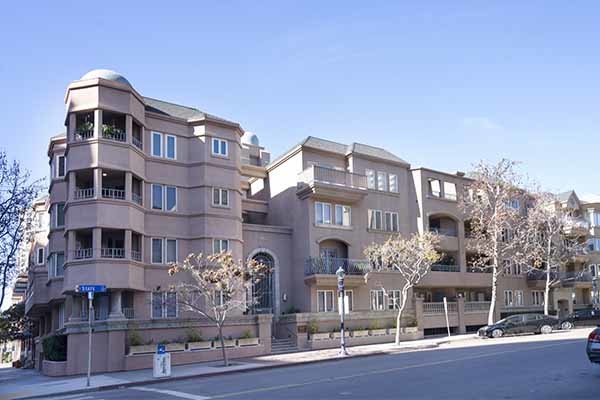 Columbia Place - Condos & Lofts For Sale:
Columbia Place - Recent Closings / Sales
| Closed | Unit# | Sale price | Bed | Bath | Sqft | Price/SqFT |
| --- | --- | --- | --- | --- | --- | --- |
| 01/09/2023 | #320 | $700,000 | 2 | 2 | 1,048 | 668 |
| 05/16/2022 | #118 | $765,000 | 2 | 2 | 1,018 | 751 |
| 05/04/2022 | #403 | $623,000 | 1+ | 1 | 884 | 705 |
| 02/03/2022 | #305 | $725,000 | 2 | 2 | 1,066 | 680 |
| 11/10/2021 | #223 | $680,000 | 2 | 2 | 1,066 | 638 |
| 11/04/2021 | #219 | $639,000 | 2 | 0+ | 1,038 | 616 |
| 10/18/2021 | #308 | $645,000 | 2 | 2 | 1,066 | 605 |
| 10/11/2021 | #323 | $595,000 | 2 | 2 | 1,066 | 558 |
| 06/25/2021 | #310 | $640,000 | 2 | 2 | 1,070 | 598 |
| 06/14/2021 | #114 | $435,000 | 1 | 1 | 735 | 592 |
| 05/21/2021 | #202 | $465,000 | 1 | 1 | 735 | 633 |
| 05/10/2021 | #316 | $442,000 | 1 | 1 | 735 | 601 |
| 12/23/2020 | #222 | $565,000 | 2 | 2 | 1,066 | 530 |
| 10/26/2020 | #219 | $580,000 | 2 | 0+ | 1,038 | 559 |
| 08/24/2020 | #406 | $564,999 | 2 | 2 | 1,066 | 530 |
Columbia Place - All Closings / Sales History
Columbia Place - Available Rentals
Columbia Place - Recently Rented
| Closed | Unit# | Sale price | Bed | Bath | Sqft | Price/SqFT |
| --- | --- | --- | --- | --- | --- | --- |
| 05/20/2022 | #326 | $2,300 | 1 | 1 | 735 | 3 |
| 01/28/2021 | #321 | $2,500 | 2 | 2 | 1,048 | 2 |
| 01/21/2021 | #113 | $1,995 | 1 | 1 | 735 | 3 |
| 01/29/2020 | #326 | $2,000 | 1 | 1 | 735 | 3 |
| 10/17/2019 | #101 | $2,250 | 2 | 2 | 1,021 | 2 |
| 05/16/2019 | #206 | $2,200 | 2 | 2 | 1,066 | 2 |
| 08/28/2017 | #418 | $2,500 | 2 | 2 | 1,035 | 2 |
| 05/17/2017 | #414 | $2,900 | 1 | 1 | 884 | 3 |
| 03/02/2017 | #414 | $2,500 | 1 | 1 | 884 | 3 |
| 09/30/2016 | #101 | $2,150 | 2 | 2 | 1,021 | 2 |
| 04/19/2016 | #422 | $2,500 | 2 | 2 | 1,066 | 2 |
| 03/24/2016 | #206 | $2,500 | 2 | 2 | 1,066 | 2 |
| 11/13/2015 | #304 | $1,800 | 1 | 1 | 735 | 2 |
| 09/21/2015 | #422 | $2,600 | 2 | 2 | 1,066 | 2 |
| 08/13/2015 | #120 | $4,700 | 2 | 2 | 1,071 | 4 |