Crown Bay
Neighborhood: Marina
Address:  350 K
Year Built:  2002
Stories:  6
Units:  86
Property Management Company:  NNJ - 858.550.7900
Located at 350 K Street on the corners of 3rd and 4th on K Street, Crown Bay is a mixed-use, 6-story mid-rise on the border of Gaslamp Quarter and Marina District. The complex comprises of 86 condos constructed of wood and stucco and was completed in March 2002. Floor plans are of one and two bedrooms, several with a den, ranging from approximately 700 to 1,250 square feet and stand on 8,400 square feet of ground floor retail space.
Crown Bay Homes have Plush carpeting throughout living areas, Hand-rubbed bronze entry hardware, Designer-selected chrome faucets and plumbing trim with pressure setting valves, architecturally specified lighting in kitchens, dining rooms and bathrooms, Kohler fixtures, custom ceramic-tile entries along with Raised-panel Colonist interior doors and 9-foot ceiling in selected areas to give a dramatic look.
All homes include Built-in GE appliances in black, white, or almond (efficient side-by-side Refrigerator/Freezer with ice maker, Washer/Dryer, Self Cleaning Oven, Microwave with built-in exhaust hood and Multi-cycle Dishwasher with timer); Dual compartment cast iron kitchen sink with garbage disposal; Custom ceramic tile entry and kitchen. Most plans have a built-in pantry for convenient storage.
Pre-wired for Cable TV and telephone, the condos also have Heating and Air conditioning with efficient thermostatic control, Dual-glazed windows for temperature and sound insulation, Built-in computer desk and full-height linen storage and abundant storage closets. Many units face the Convention Center and Promenade with great views from Private balconies with dual-glazed glass doors and windows.
Project amenities include Tree-lined sidewalks on all three street-sides of the building, secured entry, handicapped-accessible security parking, landscaped courtyard, A 1,200-square-foot landscaped rooftop sun deck with barbecue and storage overlooking a landscaped park, A furnished lobby and a gym with bathroom and kitchenette to name a few.
Crown Bay is centrally located just minutes from the San Diego Bay, the Embarcadero, and the Convention Center and is within walking distance to the Civic Center, the Gaslamp Quarter, the Horton Plaza shopping center, Seaport Village, and Ralphs Grocery Store. For pet owners, there is a park right upfront. Traveling is easy as you will be close to the freeway, the ferry landing, the Amtrak and Trolley stations, and San Diego's Lindbergh Field Airport.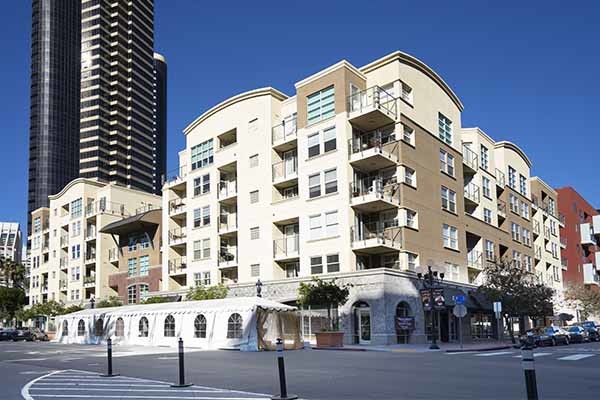 Crown Bay - Condos & Lofts For Sale:
Crown Bay - Recent Closings / Sales
| Closed | Unit# | Sale price | Bed | Bath | Sqft | Price/SqFT |
| --- | --- | --- | --- | --- | --- | --- |
| 04/17/2023 | #507 | $564,900 | 1 | 1 | 673 | 839 |
| 03/03/2023 | #415 | $710,000 | 2 | 2 | 1,025 | 693 |
| 01/13/2023 | #409 | $660,000 | 2 | 2 | 933 | 707 |
| 01/05/2023 | #407 | $505,000 | 1 | 1 | 673 | 750 |
| 08/02/2022 | #207 | $500,000 | 1 | 1 | 694 | 720 |
| 07/11/2022 | #608 | $725,000 | 2 | 2 | 933 | 777 |
| 06/27/2022 | #502 | $675,000 | 2 | 2 | 1,024 | 659 |
| 06/01/2022 | #308 | $720,000 | 2 | 2 | 933 | 772 |
| 01/14/2022 | #403 | $515,000 | 1 | 1 | 694 | 742 |
| 12/16/2021 | #313 | $655,000 | 2 | 2 | 1,023 | 640 |
| 12/09/2021 | #209 | $625,000 | 2 | 2 | 933 | 670 |
| 06/29/2021 | #311 | $570,000 | 2 | 2 | 965 | 591 |
| 05/10/2021 | #213 | $535,000 | 2 | 2 | 1,023 | 523 |
| 01/14/2021 | #406 | $725,000 | 3 | 2 | 1,226 | 591 |
| 01/11/2021 | #414 | $540,000 | 2 | 2 | 965 | 560 |
Crown Bay - All Closings / Sales History
Crown Bay - Available Rentals
Crown Bay - Recently Rented
| Closed | Unit# | Sale price | Bed | Bath | Sqft | Price/SqFT |
| --- | --- | --- | --- | --- | --- | --- |
| 07/05/2022 | #303 | $2,800 | 1 | 1 | 694 | 4 |
| 01/04/2022 | #407 | $2,400 | 1 | 1 | 673 | 4 |
| 12/14/2021 | #413 | $3,200 | 2 | 2 | 1,023 | 3 |
| 06/18/2021 | #413 | $3,100 | 2 | 2 | 1,023 | 3 |
| 06/15/2021 | #401 | $3,295 | 2+ | 2 | 1,226 | 3 |
| 12/15/2020 | #318 | $2,100 | 1 | 1 | 637 | 3 |
| 12/01/2020 | #511 | $2,595 | 2 | 2 | 965 | 3 |
| 08/01/2020 | #401 | $3,195 | 2+ | 2 | 1,226 | 3 |
| 02/24/2020 | #204 | $2,050 | 1 | 1 | 694 | 3 |
| 10/30/2019 | #318 | $2,100 | 1 | 1 | 637 | 3 |
| 09/23/2019 | #418 | $2,200 | 1 | 1 | 673 | 3 |
| 04/15/2019 | #318 | $2,200 | 1 | 1 | 637 | 3 |
| 11/19/2018 | #508 | $2,500 | 2 | 2 | 933 | 3 |
| 08/18/2018 | #609 | $2,800 | 2 | 2 | 933 | 3 |
| 07/23/2018 | #318 | $2,100 | 1 | 1 | 637 | 3 |