Diamond Terrace
Neighborhood: East Village
Address:  427 9th
Year Built:  2005
Stories:  14
Units:  113
Property Management Company:  Wilson HOA Management Solutions - 858.531.1414
Diamond Terrace is a 14-story high-rise located at 427 Ninth Avenue on the northeast corner of 9th and J in the Ballpark District of downtown San Diego. Intracorp San Diego's mixed use project includes 113 condominiums with 11,000 Sq. ft. of retail space. Architectural firms Fehlman/LeBarre and Perkins & Company designed the project whose concrete construction was completed in September 2005.
The condominiums have contemporary designs with Dramatic Nine-foot ceilings in selected areas, Dual-glazed windows and deck doors for temperature and sound insulation, Pre-wiring for cable TV and telephone including bedrooms, Granite kitchen countertops, A Full size stacked washer and dryer and High quality stainless steel appliances; Range cook top with self-cleaning oven, microwave, multi-cycle dishwasher and Refrigerator. Most units have Exterior decks and terraces with remarkable views. To the south is the ballpark, and to the north is the downtown San Diego View. As night falls the Terrace looms over the City lights.
The complex has distinctive exterior finishes of brick, stucco and concrete and is surrounded by tree-lined sidewalks. Other amenities include a rooftop community area, barbeques, fully equipped fitness center and Gated parking garage with 160 parking spaces.
Diamond Terrace's East Village District is sometimes referred to as the entertainment district of Downtown San Diego. It has a vibrant and youthful appeal with its artists' homes and shops, Schools, The San Diego Padres Petco Park and many picnic areas. Historic Gaslamp District and its more than 1000 restaurants, Horton Plaza, Seaport Village, Ralphs Market, Balboa Park, San Diego Bay and Marina are all nearby.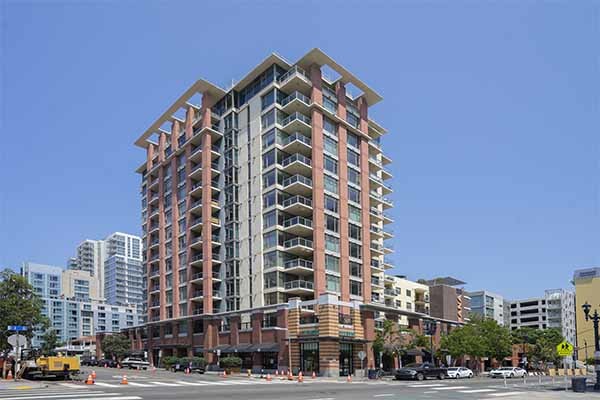 Diamond Terrace - Condos & Lofts For Sale:
Diamond Terrace - Recent Closings / Sales
| Closed | Unit# | Sale price | Bed | Bath | Sqft | Price/SqFT |
| --- | --- | --- | --- | --- | --- | --- |
| 04/14/2023 | #703 | $856,000 | 2 | 2 | 1,018 | 841 |
| 11/30/2022 | #607 | $397,500 | 0 | 1 | 487 | 816 |
| 11/22/2022 | #1103 | $872,000 | 2 | 2 | 1,018 | 857 |
| 08/30/2022 | #403 | $850,000 | 2 | 2 | 1,018 | 835 |
| 08/19/2022 | #903 | $850,000 | 2 | 2 | 1,018 | 835 |
| 07/26/2022 | #1403 | $704,500 | 1 | 1 | 848 | 831 |
| 07/01/2022 | #1207 | $382,000 | 0 | 1 | 487 | 784 |
| 06/30/2022 | #707 | $370,000 | 0 | 1 | 487 | 760 |
| 05/03/2022 | #609 | $565,000 | 1 | 1 | 826 | 684 |
| 04/13/2022 | #1309 | $615,000 | 1 | 1 | 826 | 745 |
| 01/03/2022 | #507 | $339,000 | 0 | 1 | 487 | 696 |
| 12/09/2021 | #801 | $560,000 | 1 | 1 | 843 | 664 |
| 10/19/2021 | #1306 | $680,000 | 2 | 2 | 963 | 706 |
| 09/20/2021 | #902 | $798,000 | 2 | 2 | 1,090 | 732 |
| 09/03/2021 | #301 | $455,000 | 1 | 1 | 843 | 540 |
Diamond Terrace - All Closings / Sales History
Diamond Terrace - Available Rentals
Diamond Terrace - Recently Rented
| Closed | Unit# | Sale price | Bed | Bath | Sqft | Price/SqFT |
| --- | --- | --- | --- | --- | --- | --- |
| 05/03/2023 | #507 | $2,495 | 0 | 1 | 487 | 5 |
| 04/19/2023 | #1209 | $2,800 | 1 | 1 | 826 | 3 |
| 10/11/2022 | #404 | $2,990 | 1 | 1 | 871 | 3 |
| 08/20/2022 | #408 | $2,595 | 1 | 1 | 670 | 4 |
| 09/07/2021 | #408 | $2,195 | 1 | 1 | 670 | 3 |
| 09/02/2021 | #602 | $3,195 | 2 | 2 | 1,090 | 3 |
| 04/09/2021 | #703 | $3,350 | 2 | 2 | 1,018 | 3 |
| 09/23/2020 | #1402 | $3,400 | 2 | 2 | 1,097 | 3 |
| 06/01/2020 | #1104 | $3,200 | 1 | 1 | 871 | 4 |
| 02/04/2020 | #1104 | $3,400 | 1 | 1 | 871 | 4 |
| 01/27/2020 | # | $1,995 | 1 | 1 | 670 | 3 |
| 10/18/2019 | #302 | $2,600 | 2 | 2 | 1,090 | 2 |
| 09/27/2019 | #304 | $2,100 | 1 | 1 | 871 | 2 |
| 09/05/2019 | #602 | $2,800 | 2 | 2 | 1,090 | 3 |
| 08/26/2019 | #202 | $3,050 | 2 | 2 | 1,080 | 3 |