Element
Neighborhood: East Village
Address:  550 15th
Year Built:  2006
Stories:  8
Units:  65
Property Management Company:  S.H.E. Manages - 619.291.6300 wxt. 309
Element is located in Downtown San Diego's East Village neighborhood at the southwest corner of 15th and Market. The 8-story complex houses 65 San Diego downtown condos, 76 parking spaces and 4,000 square feet of retail space.
Developers Centex Homes describe Element as Modern. Urban. Unquestionably eclectic. Indeed it is with distinctive 1 & 2 bedrooms in five different floor plans ranging from 550 to 970 sq. ft. and live/work units up to 1450 sq. ft. in size.
Element homes are tastefully decorated to please your senses. Spacious living rooms are complemented with balconies or private decks. Floor to ceiling glass windows in every room let in plenty of natural light and enchanting views of the quaint East Village neighborhood. Some condos have views unto Coronado Bridge.
Kitchens are adorned with top grade stainless steel appliances including a microwave, oven, and refrigerator and kitchen islands. Luxurious bedrooms with walk in closets, granite countertops in kitchen and bathroom, contemporary light/dark/maple cabinets and dramatic high ceilings in many areas are some of the excellent features that characterize Element homes.
The concrete construction of the downtown San Diego real estate building was completed in 2006. Architects Austin Veum Robbins and Parshalle have given the exteriors a distinct, contemporary look that transcends form and function by incorporating glass, stucco, plaster, aluminum and exposed concrete in the structure.
East Village is historically known as a center for arts and entertainment, comprising of charming art galleries, hip restaurants and Petco Park, home of the San Diego Padres. The neighborhood serves as a gateway to nearby attractions, including the San Diego Bay, Museums of Balboa Park, the World Famous San Diego Zoo, biking and jogging trails, and entertainment in the Gaslamp Quarter. Trolley stations, close proximity to the freeway and the Lindbergh Field Airport offer convenient access to travel anywhere.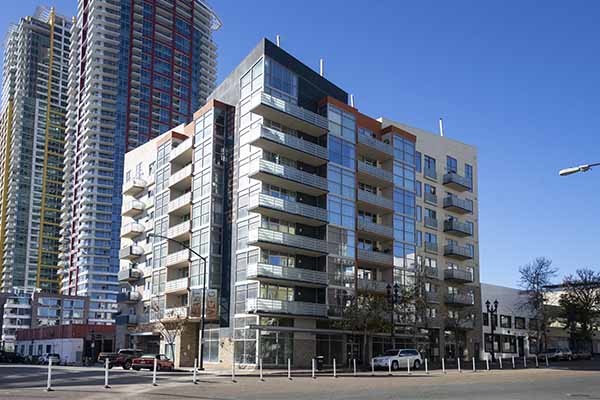 Element - Condos & Lofts For Sale:
Element - Recent Closings / Sales
| Closed | Unit# | Sale price | Bed | Bath | Sqft | Price/SqFT |
| --- | --- | --- | --- | --- | --- | --- |
| 04/06/2023 | #406 | $555,000 | 2 | 1 | 884 | 628 |
| 07/01/2022 | #706 | $540,000 | 2 | 1 | 884 | 611 |
| 03/18/2022 | #809 | $480,000 | 1 | 1 | 725 | 662 |
| 03/01/2022 | #207 | $372,500 | 0 | 1 | 526 | 708 |
| 02/09/2022 | #307 | $342,500 | 0 | 1 | 526 | 651 |
| 01/31/2022 | #607 | $370,000 | 0 | 1 | 526 | 703 |
| 11/30/2021 | #409 | $405,000 | 0 | 1 | 725 | 559 |
| 08/03/2021 | #206 | $471,000 | 2 | 1 | 884 | 533 |
| 07/09/2021 | #605 | $510,000 | 2 | 2 | 970 | 526 |
| 06/23/2021 | #705 | $550,000 | 2 | 2 | 970 | 567 |
| 06/04/2021 | #808 | $405,000 | 1 | 1 | 691 | 586 |
| 04/23/2021 | #806 | $475,000 | 2 | 1 | 884 | 537 |
| 12/04/2020 | #702 | $350,000 | 1 | 1 | 691 | 507 |
| 12/27/2019 | #709 | $349,900 | 1 | 1 | 725 | 483 |
| 06/19/2019 | #506 | $413,500 | 2 | 1 | 884 | 468 |
Element - All Closings / Sales History
Element - Available Rentals
#601
Price:


$3,400

Beds:
0
Baths:
1
Sq.Ft.:
726
Community:
East Village
Listed:
02/22/2023
MLS#:
230003444
Office Info:
Del Coronado Realty
Element - Recently Rented
| Closed | Unit# | Sale price | Bed | Bath | Sqft | Price/SqFT |
| --- | --- | --- | --- | --- | --- | --- |
| 04/16/2023 | #102 | $2,895 | 0 | 1 | 1,333 | 2 |
| 09/02/2021 | #604 | $2,200 | 2 | 1 | 884 | 2 |
| 08/24/2021 | #604 | $2,200 | 2 | 1 | 884 | 2 |
| 07/09/2021 | #502 | $1,950 | 1 | 1 | 690 | 3 |
| 01/16/2021 | #604 | $2,100 | 2 | 1 | 884 | 2 |
| 01/10/2021 | #207 | $1,450 | 0 | 1 | 526 | 3 |
| 01/01/2021 | #201 | $2,150 | 1 | 1 | 720 | 3 |
| 10/10/2020 | #201 | $2,150 | 1 | 1 | 720 | 3 |
| 08/08/2020 | #406 | $2,200 | 2 | 1 | 884 | 2 |
| 06/25/2019 | #207 | $1,595 | 0 | 1 | 526 | 3 |
| 04/10/2019 | #201 | $2,150 | 1 | 1 | 720 | 3 |
| 02/18/2019 | #501 | $1,595 | 0 | 1 | 726 | 2 |
| 07/27/2018 | #809 | $1,700 | 1 | 1 | 725 | 2 |
| 05/20/2018 | #207 | $1,595 | 0 | 1 | 526 | 3 |
| 04/27/2018 | #604 | $1,975 | 2 | 1 | 884 | 2 |