Fahrenheit
Neighborhood: East Village
Address:  1025 Island
Year Built:  2006
Stories:  7
Units:  77
Property Management Company:  Merit - 858.657.2195
CityMark Development, Fahrenheit, won the 2006 Orchid Award for Architecture. It's an innovative 7-story residential building; 90 ft. high.
Located at 1025 Island Avenue on the south-east corner of Island and Tenth, it comprises of 77 downtown San Diego lofts and shopkeeper units and 109 parking spaces. Fahrenheit includes Studios, One, and Two Bedroom lofts ranging from 728-2,613 sq. ft. in size. The ceiling heights range from 11-14' concrete ceilings.  Fahrenheit was completed in spring 2006.
Award winning Architects Martinez+Cutri & Studio E have contributed to this project. The use of modern colors and designs, lots of glass and concrete in the style of the floor plans with eleven to fourteen foot ceilings and floor-to-ceiling windows give the complex a distinct contemporary urban look.
Individual units feature deluxe stainless steel appliances, granite counter tops, low emission glass with dual glazing for sound Insulation and sun protection, Cat 5 data wiring, RG6 Quad Shield, installed cabling for high speed internet, energy efficient air conditioning and forced air heating. The units also have deeded and secured parking attached.
The Complex is located in the East Village District, one block from PETCO Park and a very short walk away from the fine dining and entertainment of Gaslamp district.
The San Diego City College, the New School of Architecture and 2 high schools in the area give East Village a youthful atmosphere. The abundance of artists' homes, galleries, studios and shops has led to the neighborhood being dubbed as the Soho of the West. Fahrenheit architecture and design enhances the neighborhood versatile character.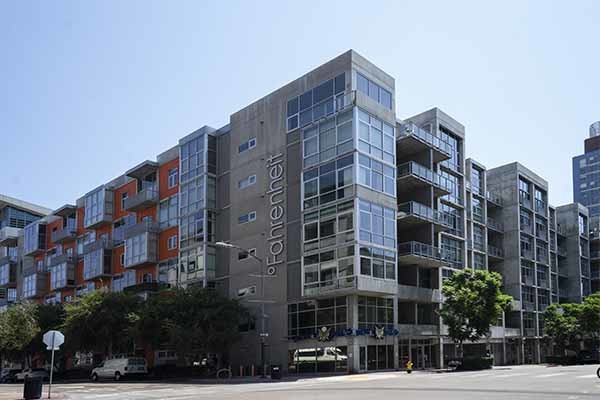 Fahrenheit - Condos & Lofts For Sale:
Fahrenheit - Recent Closings / Sales
| Closed | Unit# | Sale price | Bed | Bath | Sqft | Price/SqFT |
| --- | --- | --- | --- | --- | --- | --- |
| 01/31/2023 | #315 | $785,000 | 2 | 2 | 1,217 | 645 |
| 12/16/2022 | #207 | $900,000 | 1 | 1 | 1,925 | 468 |
| 10/17/2022 | #402 | $710,000 | 1 | 2 | 1,043 | 681 |
| 08/08/2022 | #704 | $903,000 | 2 | 2 | 1,220 | 740 |
| 05/04/2022 | #104 | $700,000 | 1 | 1 | 997 | 702 |
| 12/15/2021 | #311 | $409,000 | 1 | 1 | 768 | 533 |
| 12/07/2021 | #713 | $805,000 | 2 | 2 | 1,217 | 661 |
| 11/03/2021 | #312 | $425,000 | 0 | 1 | 726 | 585 |
| 10/27/2021 | #606 | $417,000 | 1 | 1 | 768 | 543 |
| 10/01/2021 | #309 | $445,000 | 0 | 1 | 727 | 612 |
| 09/14/2021 | #206 | $956,000 | 1 | 1 | 750 | 1275 |
| 09/02/2021 | #710 | $480,000 | 0 | 1 | 726 | 661 |
| 08/24/2021 | #607 | $434,000 | 1 | 1 | 726 | 598 |
| 08/16/2021 | #514 | $625,000 | 2+ | 2 | 1,276 | 490 |
| 07/27/2021 | #507 | $640,000 | 1 | 2 | 1,043 | 614 |
Fahrenheit - All Closings / Sales History
Fahrenheit - Available Rentals
0
#702
Price:


$3,950

Beds:
2
Baths:
2
Sq.Ft.:
932
Community:
East Village
Listed:
07/25/2023
MLS#:
230014325
Office Info:
Compass
Fahrenheit - Recently Rented
| Closed | Unit# | Sale price | Bed | Bath | Sqft | Price/SqFT |
| --- | --- | --- | --- | --- | --- | --- |
| 05/02/2023 | #707 | $2,750 | 0+ | 1 | 724 | 4 |
| 07/25/2022 | #702 | $3,950 | 2 | 2 | 932 | 4 |
| 03/09/2022 | #510 | $2,300 | 0 | 1 | 768 | 3 |
| 01/20/2022 | #209 | $2,800 | 1+ | 2 | 1,310 | 2 |
| 11/21/2021 | #208 | $2,500 | 1 | 1 | 1,027 | 2 |
| 10/18/2021 | #702 | $3,500 | 2 | 2 | 932 | 4 |
| 06/21/2021 | #403 | $2,600 | 2 | 2 | 1,027 | 3 |
| 05/11/2021 | #707 | $2,400 | 0+ | 1 | 724 | 3 |
| 03/23/2021 | #702 | $3,400 | 2 | 2 | 932 | 4 |
| 03/12/2021 | #706 | $2,950 | 2 | 2 | 1,027 | 3 |
| 03/03/2021 | #509 | $2,000 | 0 | 1 | 724 | 3 |
| 01/18/2021 | #202 | $2,495 | 1+ | 2 | 1,197 | 2 |
| 11/30/2020 | #510 | $1,895 | 0 | 1 | 768 | 2 |
| 06/03/2020 | #701 | $2,500 | 2 | 2 | 996 | 3 |
| 06/01/2020 | #707 | $2,200 | 0+ | 1 | 724 | 3 |