Gaslamp City Square
Neighborhood: Gaslamp
Address:  450 J
Year Built:  2006
Stories:  7
Units:  191
Property Management Company:  NNJ - 858.550.7900
Gaslamp City Square is a 7-story mid-rise complex of steel frame construction located on the block bounded by Fourth, Fifth, Island and J in Downtown San Diego's Historic Gaslamp Quarter. The first phase was completed by K. Hovnanian in August 2004 and includes 25,000 square feet of retail space and 88 condominiums with 125 parking spaces. The second phase includes 25,000 square feet of retail space and 103 units that was completed in February 2006.
The complex offers 13 floor plans from: studio, one and two-story plans with lofty 9 foot ceilings, granite countertops, maple flat slab Euro-style cabinetry and designer selected tile flooring in the bathrooms, kitchen and entry. Interior laundry space is provided inclusive of a Washer & Dryer along with modern necessities such as high speed internet access. Street facing Units have balconies overlooking 4th and 5th Avenues.
Gaslamp City Square provides a range of amenities comprising of a fitness center, secured underground parking, a rare fully landscaped interior urban park courtyard, sundeck, pool, spa, and community BBQ's. Easy freeway access makes for stress free traveling and gives easy access to other downtown neighborhoods.
Gaslamp District is Downtown San Diego fine Dining & Entertainment district. If you live here, you're living in a sophisticated area that's on the National Register of Historic Places. Euro style outside seating is available at most cafes or restaurants. Annual events such as Street Scene, the Mardi Gras Celebration, Shamrock, Taste of Gaslamp, and Cinco in the Gaslamp are held in this district. Additionally, Gaslamp Quarter is within walking distance to the shopping at the Horton Plaza, the Convention Center, PetCo Park and, Marina Village.
Gaslamp City Square Floor Plans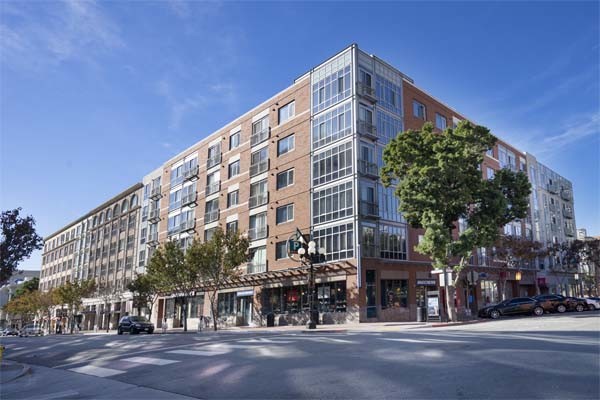 Gaslamp City Square - Condos & Lofts For Sale:
#607
Price:


$559,900

Beds:
1
Baths:
1
Sq.Ft.:
807
Community:
Gaslamp
Listed:
06/20/2023
MLS#:
230011735
Office Info:
Redfin Corporation
Gaslamp City Square - Recent Closings / Sales
| Closed | Unit# | Sale price | Bed | Bath | Sqft | Price/SqFT |
| --- | --- | --- | --- | --- | --- | --- |
| 04/13/2023 | #4271 | $660,000 | 2 | 2 | 1,016 | 650 |
| 04/10/2023 | #3211 | $680,000 | 2 | 2 | 1,016 | 669 |
| 02/28/2023 | #4121 | $417,000 | 0 | 1 | 520 | 802 |
| 02/06/2023 | #6111 | $550,000 | 1 | 1 | 777 | 708 |
| 01/27/2023 | #7251 | $775,000 | 2 | 2 | 1,013 | 765 |
| 01/09/2023 | #605 | $750,000 | 2 | 2 | 1,113 | 674 |
| 10/11/2022 | #303 | $482,000 | 1 | 1 | 636 | 758 |
| 10/03/2022 | #419 | $385,000 | 0 | 1 | 483 | 797 |
| 09/22/2022 | #5211 | $700,000 | 2 | 2 | 1,016 | 689 |
| 08/08/2022 | #7191 | $550,000 | 1 | 1 | 777 | 708 |
| 08/01/2022 | #425 (4251) | $750,000 | 2 | 2 | 1,013 | 740 |
| 08/01/2022 | #721 | $550,000 | 1 | 1 | 807 | 682 |
| 06/08/2022 | #3171 | $535,000 | 1 | 1 | 777 | 689 |
| 05/12/2022 | #4131 | $770,000 | 2 | 2 | 993 | 775 |
| 05/03/2022 | #3251 | $750,000 | 2 | 2 | 1,013 | 740 |
Gaslamp City Square - All Closings / Sales History
Gaslamp City Square - Available Rentals
Gaslamp City Square - Recently Rented
| Closed | Unit# | Sale price | Bed | Bath | Sqft | Price/SqFT |
| --- | --- | --- | --- | --- | --- | --- |
| 02/14/2023 | #3051 | $2,300 | 1 | 1 | 777 | 3 |
| 09/14/2022 | #4081 | $2,600 | 1 | 1 | 778 | 3 |
| 09/03/2022 | #4041 | $2,750 | 1 | 1 | 799 | 3 |
| 06/23/2022 | #5151 | $2,995 | 1 | 1 | 777 | 4 |
| 06/01/2022 | #3011 | $1,975 | 1 | 1 | 777 | 3 |
| 12/24/2021 | #4121 | $2,350 | 0 | 1 | 520 | 5 |
| 11/15/2021 | #3371 | $4,000 | 2 | 2 | 1,256 | 3 |
| 10/05/2021 | #706 | $2,200 | 1 | 1 | 547 | 4 |
| 10/04/2021 | #4121 | $2,350 | 0 | 1 | 520 | 5 |
| 09/30/2021 | #602 | $2,200 | 1 | 1 | 681 | 3 |
| 09/24/2021 | #4251 | $3,100 | 2 | 2 | 1,013 | 3 |
| 07/30/2021 | #4041 | $2,350 | 1 | 1 | 799 | 3 |
| 05/02/2021 | #4081 | $2,100 | 1 | 1 | 778 | 3 |
| 04/26/2021 | #3051 | $1,900 | 1 | 1 | 777 | 2 |
| 03/29/2021 | #525 | $2,600 | 1 | 1 | 805 | 3 |