Hawthorn Place
Neighborhood: Little Italy
Address:  801 W Hawthorn
Year Built:  2004
Stories:  4
Units:  35
Property Management Company:  Packard Management Group - 858.277.4305
Hawthorn Place stands on the corner of south side Hawthorn and India Streets. The 4-story, 35-condominium mid-rise with 4,000 sq. ft. of retail space was completed by Phillip Boczanowski in 2004. Many residences at Hawthorn Place boast breathtaking views of the city's skyline or the San Diego harbor. Floor plans include one, two, and three Bedroom Condos.
Hawthorn Place gives you luxury features and excellence in every detail. Handcrafted custom solid walnut interior doors, dual-glazed windows for sound insulation and low-emission glass for sun protection energy efficiency, wood plank and beam ceilings in living areas on some plans, hand set ceramic tile entry way, European style decor light switches with dimmer switch in dining room, decorative door hardware, plush carpeting over pad in choice of designer colors, traditional mortar-set ceramic tile around bathtubs, ceramic tile bathroom floors and distinctive lighting fixtures throughout create a perfect ambience.
Practical systems are incorporated such as Cable TV and phone jacks in all bedrooms, kitchen and living room, electronic thermostat for energy efficient controlled heating and cooling and interior laundry area accommodating stackable full-sized washer/dryer. Units are pre-wired for category 6 phones, RG6 quad-shield cabling for high-speed Internet, and ceiling fans in bedrooms and dining area.
The kitchens of Hawthorn Place incorporate solid granite countertops, custom solid walnut cabinetry with concealed hinges and white melamine interiors, dual compartment stainless steel kitchen sink, under cabinet lighting, ceramic tile kitchen floor, appliances including Jenn-Air dishwasher, self-cleaning oven and built-in microwave, plumbing for ice maker, recessed lighting, decorative designer faucets. And for the serious chef, a portable food prep table.
Hawthorn Place is designed by Mosaic Architecture in wood and stucco construction. The traditional Italian architecture in rich exterior colors of Hawthorn Place complements Downtown San Diego Little Italy neighborhood. The architects spent a month traveling throughout Italy, researching and collecting ideas they have used to create the classic design of 35 customized, affordable condominiums.
A sixty-five foot high Roman clock tower is inspired by the clock tower in Siena, Italy. It serves as a point of reference in the neighborhood. Distinctive metal railings adorn private balconies and old-world shutters and a clay tile roof reflect the classic designs of Italy. An inviting landscaped courtyard and sitting area is included within Hawthorn Place. The secured garage accords ample parking space. Most condos have marvelous views of the Bay and downtown San Diego.
Little Italy is a gem tucked away from the hustle of the city. Downtown San Diego eclectic restaurants, bakeries, galleries, shops and nightlife are just a few steps away from Hawthorn Place. The neighborhood is also only minutes from the airport, the San Diego Bay, Shelter Island and Balboa Park. Once known as fisherman's port, this historic neighborhood assures an ideal lifestyle combining city accessibility with luxury living.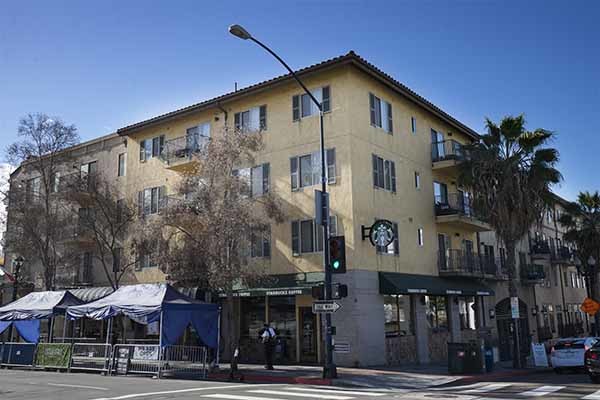 Hawthorn Place - Condos & Lofts For Sale:
Hawthorn Place - Recent Closings / Sales
| Closed | Unit# | Sale price | Bed | Bath | Sqft | Price/SqFT |
| --- | --- | --- | --- | --- | --- | --- |
| 08/16/2023 | #309 | $705,000 | 2 | 2 | 849 | 830 |
| 06/09/2023 | #302 | $750,000 | 2 | 2 | 804 | 933 |
| 11/18/2022 | #106 | $736,250 | 2 | 2 | 1,018 | 723 |
| 06/06/2022 | #310 | $700,000 | 2 | 2 | 841 | 832 |
| 08/02/2021 | #208 | $552,000 | 2 | 2 | 804 | 687 |
| 10/28/2020 | #207 | $510,000 | 2 | 2 | 826 | 617 |
| 10/23/2020 | #301 | $530,000 | 2 | 2 | 862 | 615 |
| 02/04/2020 | #106 | $560,000 | 2 | 2 | 1,018 | 550 |
| 01/06/2020 | #306 | $587,500 | 2 | 2 | 1,018 | 577 |
| 08/28/2019 | #104 | $597,500 | 2 | 2 | 1,018 | 587 |
| 07/20/2018 | #306 | $520,000 | 2 | 2 | 1,018 | 511 |
| 05/02/2018 | #309 | $540,000 | 2 | 2 | 849 | 636 |
| 04/23/2018 | #105 | $560,000 | 2 | 2 | 1,018 | 550 |
| 04/11/2017 | #409 | $550,000 | 2 | 2 | 1,010 | 545 |
| 03/21/2017 | #208 | $430,000 | 2 | 2 | 804 | 535 |
Hawthorn Place - All Closings / Sales History
Hawthorn Place - Available Rentals
Hawthorn Place - Recently Rented
| Closed | Unit# | Sale price | Bed | Bath | Sqft | Price/SqFT |
| --- | --- | --- | --- | --- | --- | --- |
| 07/31/2018 | #202 | $3,000 | 2 | 2 | 788 | 4 |
| 06/11/2018 | #102 | $2,650 | 2 | 2 | 858 | 3 |
| 05/26/2018 | #301 | $2,500 | 2 | 2 | 862 | 3 |
| 07/07/2017 | #409 | $2,495 | 2 | 2 | 1,010 | 2 |
| 07/10/2015 | # | $1,350 | 1 | 1 | 400 | 3 |
| 06/29/2015 | #307 | $2,450 | 2 | 2 | 924 | 3 |
| 05/08/2015 | #102 | $2,325 | 2 | 2 | 858 | 3 |
| 06/07/2014 | #307 | $2,250 | 2 | 2 | 924 | 2 |
| 04/22/2014 | #202 | $2,000 | 2 | 2 | 788 | 3 |
| 04/18/2014 | #106 | $2,050 | 2 | 2 | 1,018 | 2 |
| 07/31/2013 | #202 | $2,500 | 2 | 2 | 788 | 3 |