Horizons
Neighborhood: Marina
Address:  550 Front - 510 First
Year Built:  2002
Stories:  25
Units:  211
Property Management Company:  Action - 619.338.4096 
Horizons twin 25-story towers Tower over Downtown San Diego Marina District, bordered by Market Street, Island Avenue, First Avenue and Front Street. The complex is a concrete and steel construction and was completed in 2002-2003 by BOSA developers. Floor plans are available as one-bedrooms, two bedrooms, two bedrooms and dens, townhouses and penthouses ranging from 1036 sq. ft. to 2918 sq. ft. in size.
Horizon Condominiums have superior craftsmanship and intricate details. The properties have larger sized patios and open floor plans which are enhanced by the expansive double paned floor to ceiling windows that are designed to let in natural light and stunning views of the ocean.  Most units have Roller shade window coverings.
Horizons was destined to be a San Diego Downtown landmark. The spectacular twin towers include an inner landscaped courtyard with inspiring waterfalls creating a peaceful atmosphere. Horizons has many different amenities including an outdoor swimming pool and spa surrounded by a large sun deck, outdoor barbeque area, a fully equipped fitness club with men's and ladies changing rooms and sauna and a residents lounge.
An office center and conference rooms can be used for business meetings. Additional amenities include a bike storage area, gated subterranean and deeded parking for residents with individual storage lockers, computer rooms, a video-monitoring system providing 24 hour security, classy entrance lobbies in wood and marble and gated entrances with concierge station at each complex entrance. They even have a parking attendant to monitor parking. 
Two high speed elevators navigate the 25 stories of each tower with ease. The community also has a Central water softener system, a resident-only access to main entrances and full time community attendants and concierge services available to residents.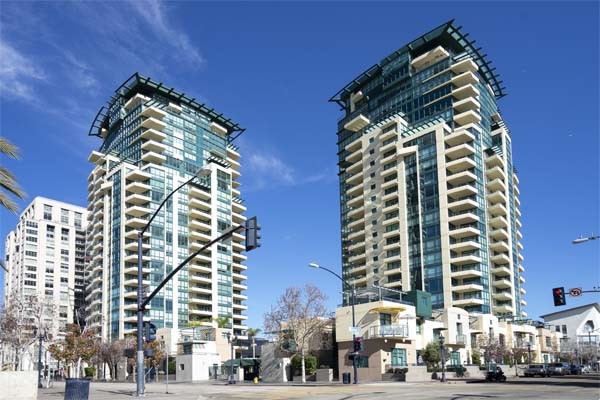 Horizons - Condos & Lofts For Sale:
Horizons - Recent Closings / Sales
| Closed | Unit# | Sale price | Bed | Bath | Sqft | Price/SqFT |
| --- | --- | --- | --- | --- | --- | --- |
| 03/09/2023 | #1704 | $1,455,000 | 2 | 2 | 1,441 | 1010 |
| 01/10/2023 | #1401 | $805,000 | 1 | 2 | 1,036 | 777 |
| 12/13/2022 | #1202 | $1,050,000 | 2 | 2 | 1,200 | 875 |
| 12/12/2022 | #904 | $1,500,000 | 2+ | 2 | 1,441 | 1041 |
| 11/10/2022 | # | $1,215,000 | 2 | 2 | 1,710 | 711 |
| 10/21/2022 | #2004 | $2,500,000 | 4 | 3 | 2,468 | 1013 |
| 09/19/2022 | #402 | $800,000 | 4 | 4 | 2,516 | 318 |
| 07/26/2022 | #1701 | $830,000 | 1+ | 2 | 1,036 | 801 |
| 07/12/2022 | #305 | $955,000 | 2 | 2 | 1,245 | 767 |
| 06/23/2022 | #602 | $1,050,000 | 2 | 2 | 1,301 | 807 |
| 06/02/2022 | # | $1,570,000 | 2 | 2 | 1,710 | 918 |
| 04/21/2022 | #2501 | $2,050,000 | 2 | 2 | 2,100 | 976 |
| 04/04/2022 | #302 | $825,000 | 2 | 2 | 1,209 | 682 |
| 04/01/2022 | #1103 | $1,250,000 | 2 | 2 | 1,215 | 1029 |
| 04/01/2022 | #1803 | $1,850,000 | 2 | 2 | 1,448 | 1278 |
Horizons - All Closings / Sales History
Horizons - Available Rentals
Horizons - Recently Rented
| Closed | Unit# | Sale price | Bed | Bath | Sqft | Price/SqFT |
| --- | --- | --- | --- | --- | --- | --- |
| 01/17/2023 | #805 | $4,800 | 2 | 2 | 1,245 | 4 |
| 07/31/2022 | #2002 | $7,000 | 3 | 3 | 2,577 | 3 |
| 06/24/2022 | #702 | $4,495 | 2 | 2 | 1,301 | 3 |
| 04/19/2022 | #2301 | $4,950 | 2 | 2 | 1,263 | 4 |
| 08/04/2021 | #702 | $4,300 | 2 | 2 | 1,301 | 3 |
| 02/05/2021 | #1301 | $2,900 | 2 | 2 | 1,036 | 3 |
| 01/03/2021 | #205 | $3,325 | 2 | 2 | 1,234 | 3 |
| 10/19/2020 | #1704 | $4,600 | 2 | 2 | 1,441 | 3 |
| 06/18/2020 | #2201 | $3,000 | 2 | 2 | 1,186 | 3 |
| 02/17/2020 | #605 | $3,095 | 2 | 2 | 1,245 | 2 |
| 01/27/2020 | #2201 | $3,000 | 2 | 2 | 1,186 | 3 |
| 12/14/2019 | #1301 | $2,900 | 2 | 2 | 1,036 | 3 |
| 12/01/2019 | #1904 | $4,975 | 2+ | 2 | 1,303 | 4 |
| 10/25/2019 | #2002 | $6,500 | 3 | 3 | 2,577 | 3 |
| 08/23/2019 | #1803 | $4,800 | 2 | 2 | 1,448 | 3 |