La Vita
Neighborhood: Little Italy
Address:  300 W Beech
Year Built:  2005
Stories:  24
Units:  304
Property Management Company:  APS Manament - 619.236.1044
La Vita is located on the corner of Union and Beech in the Little Italy neighborhood of Downtown San Diego. It is a 304-unit community development by Intergulf & Lennar, which includes three-story townhouse buildings, an eight-story mid-rise building, and a 24-story tower. The complex comprises of diverse floor-plans incorporating 1 & 2-bedroom units, penthouses, and perimeter 3-bedroom town homes ranging in size from 685-1,758 sq. ft. La Vita's concrete construction was completed in 2005.
Each of the 304- units boasts of impeccable interiors with dramatic nine-foot ceilings, flowing spaces, designer light fixtures throughout, European style decor light switches, elegant entries with hand set ceramic tiles, decorative baseboards in living areas and plush designer carpeting.
These units also have the latest energy-efficient features including energy-rated windows, energy-efficient lighting, and water-saving plumbing fixtures. Outdoor balconies and rooftop decks beckon you to step outside and offer majestic views.
Living rooms are in warm hues complementing gas fireplaces crowned with custom crafted decorative mantles and windows displaying fantastic cityscapes and bay views. Master bedrooms are provided with an additional ceiling fan/light combination and easy to clean vinyl flooring has been thoughtfully incorporated in the storage areas.
All homes are equipped with full size stackable washer and dryer, high-speed Internet access CAT5 wiring, individual heat pumps for cooling and heating, central hot water boiler, community trash chutes and are pre-wired for a ceiling fan in the living room, for telephone and cable in bedrooms, dens and kitchens and the security system. Each room comes with smart box technology to choose every outlet's function, data, cable or telephone at the push of a button.
Kitchens are tastefully designed yet practical featuring granite countertops with granite tile backsplash, hand-set easy to clean ceramic tile flooring, over counter valence lighting, contemporary down lights, European style Habitate cabinets with brushed aluminum pulls & European style hinges, double stainless steel sinks with pull out faucets, in-sink disposal systems, deluxe dishwashers, gas range with self-cleaning oven, built-in microwave/hood fan and 22 cubic foot refrigerator with icemaker. Some kitchens have lazy susans in corner cabinets. All deluxe kitchen appliances are in designer black.
Master bathrooms are adorned with hand set ceramic tile flooring, granite countertops and acrylic oval soaker tubs, designer selected ceramic tile bath and shower surround and luminous lighting over full-width vanity mirrors which merge together to create a soothing relaxed ambience.
La Vita offers an exhaustive range of amenities. Host a barbecue for friends in La Vita's barbeque areas in the center courtyard and the extensive garden areas or exercise in the fully-equipped exercise room. Swim in the lap pool or relax in the Jacuzzi. Sun yourself on the sun deck around a spectacular central water feature with fountain. Let yourself loose in the La Vita energy center, appointed with soft seating and stylish wet bar.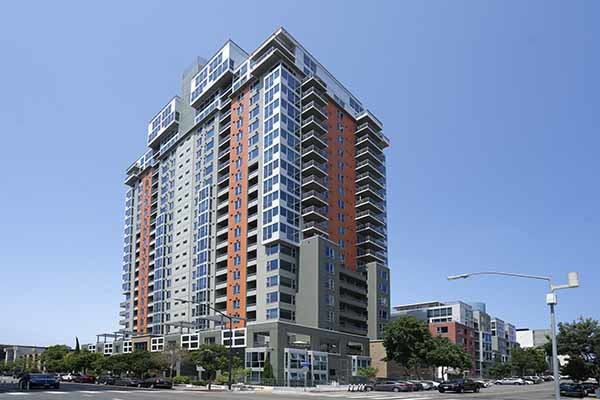 La Vita - Condos & Lofts For Sale:
La Vita - Recent Closings / Sales
| Closed | Unit# | Sale price | Bed | Bath | Sqft | Price/SqFT |
| --- | --- | --- | --- | --- | --- | --- |
| 12/19/2022 | #1908 | $935,000 | 2 | 2 | 1,132 | 826 |
| 12/05/2022 | #10 | $560,000 | 1 | 1 | 876 | 639 |
| 11/09/2022 | #2207 | $860,000 | 2 | 2 | 969 | 888 |
| 09/06/2022 | #503 | $815,000 | 2 | 2 | 1,126 | 724 |
| 08/10/2022 | #902 | $1,050,000 | 2 | 2 | 1,035 | 1014 |
| 08/05/2022 | #1210 | $810,000 | 2 | 2 | 958 | 846 |
| 06/29/2022 | #2 | $525,000 | 1 | 1 | 680 | 772 |
| 05/26/2022 | #701 | $830,000 | 2 | 2 | 1,246 | 666 |
| 05/04/2022 | #608 | $920,000 | 2 | 2 | 1,231 | 747 |
| 04/26/2022 | #1101 | $840,000 | 2 | 2 | 958 | 877 |
| 04/15/2022 | #404 | $520,000 | 1 | 1 | 681 | 764 |
| 04/08/2022 | #1003 | $1,015,000 | 2 | 2 | 1,132 | 897 |
| 03/09/2022 | #1406 | $625,000 | 1 | 1 | 706 | 885 |
| 03/08/2022 | #703 | $1,310,000 | 3 | 2 | 1,327 | 987 |
| 02/07/2022 | #803 | $907,000 | 3 | 2 | 1,327 | 683 |
La Vita - All Closings / Sales History
La Vita - Available Rentals
#1807
Price:


$3,250

Beds:
1
Baths:
1
Sq.Ft.:
706
Community:
Little Italy
Listed:
12/03/2018
MLS#:
180065851
Office Info:
Elisabeth English Real Estate
#
Price:


$5,900

Beds:
1
Baths:
1
Sq.Ft.:
681
Community:
Little Italy
Listed:
06/06/2023
MLS#:
230010734
Office Info:
Compass
#2303
Price:


$6,000

Beds:
1
Baths:
1
Sq.Ft.:
1,257
Community:
Little Italy
Listed:
06/20/2023
MLS#:
230011711
Office Info:
Urban Pacific San Diego Realty
La Vita - Recently Rented
| Closed | Unit# | Sale price | Bed | Bath | Sqft | Price/SqFT |
| --- | --- | --- | --- | --- | --- | --- |
| 04/10/2023 | #705 | $5,550 | 2+ | 2 | 1,299 | 4 |
| 02/14/2023 | #308 | $4,200 | 2 | 2 | 1,233 | 3 |
| 01/02/2023 | #2009 | $4,100 | 2 | 2 | 1,069 | 4 |
| 11/22/2022 | #1008 | $4,000 | 2 | 2 | 1,132 | 4 |
| 10/01/2022 | #609 | $3,800 | 2 | 2 | 1,144 | 3 |
| 09/14/2022 | #104 | $3,200 | 1 | 1 | 681 | 5 |
| 06/01/2022 | #603 | $4,300 | 3 | 2 | 1,327 | 3 |
| 04/11/2022 | #2202 | $4,500 | 2 | 2 | 969 | 5 |
| 10/01/2021 | #609 | $3,700 | 2 | 2 | 1,144 | 3 |
| 09/21/2021 | #T1205 | $2,900 | 1 | 1 | 706 | 4 |
| 09/05/2021 | #4 | $4,500 | 2+ | 2 | 1,680 | 3 |
| 06/14/2021 | #14 | $3,695 | 2+ | 2 | 1,779 | 2 |
| 06/01/2021 | #508 | $3,195 | 2 | 2 | 1,231 | 3 |
| 03/24/2021 | #708 | $3,390 | 2 | 2 | 1,231 | 3 |
| 01/09/2021 | #1107 | $2,250 | 1 | 1 | 706 | 3 |