M2i
Neighborhood: East Village
Address:  527 10th
Year Built:  2005
Stories:  7
Units:  4
Property Management Company:  First Service Residential - 619.255.7682
M2i is located in the heart of Downtown San Diego's Ballpark District on a whole city block surrounded by 10th, 11th, Market & Island. This 7-story complex comprises of 2 buildings totaling 230 condos and lofts and 12,000sq. ft. of retail space. Floorplans include one and two story units ranging between 542-1,889 square feet.
The concrete construction was completed by Citymark Development in 2005. M2i is designed by award winning architects Martinez + Cutri. Indeed the contemporary architecture is distinctly unique in San Diego.
M2i residences feature 11- 14 foot high ceilings complemented with floor-to-ceiling windows, skylights and private decks. Exposed concrete surfaces, designer selected stained entry doors & Grohe chrome plumbing fixtures enhance the interior decor. Homes are dual glazed for sound insulation and incorporate low-emission glass for sun protection and energy efficiency.
Additional perks include category 5e data wiring, RG6 quad-shield cabling for high speed Internet access, energy efficient air conditioning, forced heating and interior washer/dryer hookups.
Kitchens are spacious featuring kitchen islands, breakfast bars, granite slab countertops, European maple cabinetry with well concealed hinges & adjustable shelves and a cast iron dual sink. GE appliances including 30" gas cook-top with sealed burners, self-cleaning oven with microwave, and energy efficient dishwasher are included.
M2i offers a multitude of amenities beginning with its richly decorated lobbies that features art inspired by the complex architecture to a lush landscaped courtyard. Residents appreciate the availability of the fully equipped gym and secured underground parking. Being just a block away from Petco Park and a short distance from the historic entertainment district of Gaslamp Quarter are just a few added benefits of living at M2i.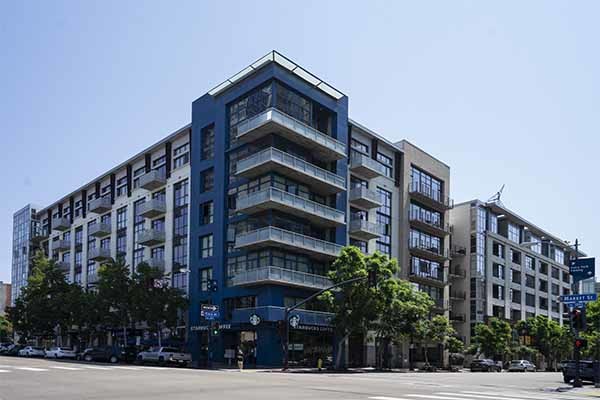 M2i - Condos & Lofts For Sale:
#608
Price:


$575,000

Beds:
0
Baths:
1
Sq.Ft.:
666
Community:
East Village
Listed:
06/29/2023
MLS#:
230012484
Office Info:
The Nelson Group
#103
Price:


$629,000

Beds:
1
Baths:
2
Sq.Ft.:
915
Community:
East Village
Listed:
07/03/2023
MLS#:
230012739
Office Info:
Coldwell Banker Realty
#213
Price:


$699,900

Beds:
2
Baths:
2
Sq.Ft.:
1,003
Community:
East Village
Listed:
07/19/2023
MLS#:
230013925
Office Info:
Compass
M2i - Recent Closings / Sales
| Closed | Unit# | Sale price | Bed | Bath | Sqft | Price/SqFT |
| --- | --- | --- | --- | --- | --- | --- |
| 05/04/2023 | #620 | $645,000 | 2 | 2 | 1,003 | 643 |
| 04/13/2023 | #325 | $629,000 | 1 | 2 | 1,003 | 627 |
| 02/24/2023 | #422 | $552,500 | 1 | 1 | 894 | 618 |
| 12/09/2022 | #403 | $427,000 | 0 | 1 | 605 | 706 |
| 09/26/2022 | #607 | $875,000 | 1 | 2 | 1,172 | 747 |
| 07/22/2022 | #402 | $585,000 | 0 | 2 | 1,094 | 535 |
| 07/13/2022 | #109 | $1,000,000 | 2 | 2 | 1,956 | 511 |
| 06/02/2022 | #610 | $700,000 | 1 | 2 | 1,078 | 649 |
| 05/23/2022 | #205 | $875,000 | 1+ | 2 | 1,172 | 747 |
| 05/13/2022 | #405 | $750,000 | 2 | 2 | 1,348 | 556 |
| 05/12/2022 | #711 | $835,000 | 1 | 1 | 814 | 1026 |
| 05/10/2022 | #714 | $665,000 | 1 | 1 | 894 | 744 |
| 04/04/2022 | #622 | $615,000 | 1 | 1 | 894 | 688 |
| 03/25/2022 | #303 | $751,000 | 1 | 2 | 1,255 | 598 |
| 03/22/2022 | #706 | $925,000 | 2 | 2 | 1,383 | 669 |
M2i - All Closings / Sales History
M2i - Available Rentals
M2i - Recently Rented
| Closed | Unit# | Sale price | Bed | Bath | Sqft | Price/SqFT |
| --- | --- | --- | --- | --- | --- | --- |
| 12/12/2022 | #411 | $2,995 | 1 | 1 | 1,029 | 3 |
| 07/08/2022 | #113 | $2,995 | 1 | 2 | 919 | 3 |
| 06/18/2022 | #310 | $2,800 | 1+ | 2 | 1,078 | 3 |
| 05/01/2022 | #501 | $4,050 | 2+ | 2 | 1,364 | 3 |
| 09/26/2021 | #612 | $3,000 | 1 | 2 | 1,126 | 3 |
| 08/04/2021 | #103 | $2,500 | 1 | 2 | 915 | 3 |
| 07/14/2021 | #113 | $2,699 | 1 | 2 | 919 | 3 |
| 06/28/2021 | #113 | $2,750 | 1 | 2 | 919 | 3 |
| 03/01/2021 | #309 | $2,200 | 0 | 1 | 718 | 3 |
| 02/17/2021 | #622 | $2,295 | 1 | 1 | 894 | 3 |
| 02/01/2021 | #518 | $3,800 | 1 | 2 | 1,364 | 3 |
| 01/28/2021 | #410 | $1,850 | 1+ | 2 | 1,078 | 2 |
| 12/07/2020 | #425 | $2,695 | 1 | 2 | 1,003 | 3 |
| 11/05/2020 | #511 | $2,600 | 2 | 2 | 1,187 | 2 |
| 10/12/2020 | #102 | $2,200 | 1 | 2 | 915 | 2 |