Meridian
Neighborhood: Marina
Address:  700 Front
Year Built:  1985
Stories:  27
Units:  172
Property Management Company:  Meridian Residents Association - 619.696.9777
The Meridian is a 27-story high-rise located in the Marina district of downtown San Diego. This luxury residential complex comprises of 172 properties ranging from 1, 2 & 3 bedroom floor plans from 1,200-3,180 sq. ft. area. The 1985 complex underwent an extensive remodeling in 2002 to include state of art amenities for its sophisticated residents.
All residences have lofty ceilings, large closets, expansive storage space and offer beautiful views of the San Diego skyline. The building design incorporates 3 feet spacing between floors for adequate sound insulation.
The Meridian employs a 40+ member staff to offer residents services like a concierge, valet parking for residents and guests, porter service, 24 hour security staff, door attendants and dry-cleaning.
For the health conscious, a fully equipped gym with separate men and women health clubs, sauna & steam room and locker rooms are at perusal.
Meridian is unique in that it provides 5 guest suites for the residents' out of town guests. A meeting room is available to conduct business and for popular hosts who love to entertain, the Meridian can accommodate large or small gatherings, not to mention the Meridian room which is equipped with a kitchen and bar.
Recreational amenities such as a game room, outdoor barbeque area and a landscaped sundeck featuring a pool and a spa can also be used as party areas.
The Meridian is at an upscale location within walking distance of the Embarcadero, Seaport Village, Ralphs grocery and other neighborhoods.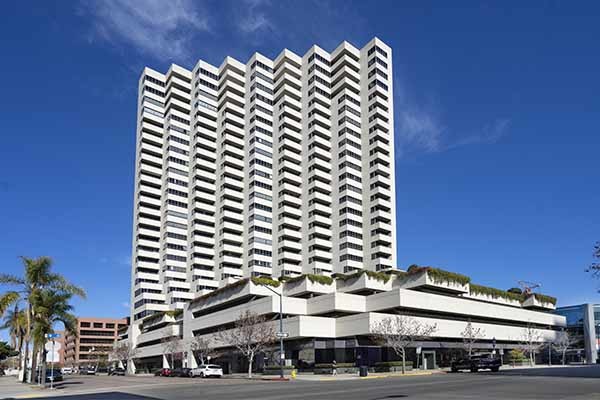 Meridian - Condos & Lofts For Sale:
Meridian - Recent Closings / Sales
| Closed | Unit# | Sale price | Bed | Bath | Sqft | Price/SqFT |
| --- | --- | --- | --- | --- | --- | --- |
| 04/10/2023 | #2502 | $4,512,000 | 3 | 3 | 3,050 | 1479 |
| 04/03/2023 | #908 | $970,000 | 1 | 1 | 1,320 | 735 |
| 02/22/2023 | #605 | $1,630,000 | 2 | 2 | 2,230 | 731 |
| 10/20/2022 | #2602 | $3,875,000 | 2+ | 2 | 3,050 | 1270 |
| 07/21/2022 | #2202 & 2203 | $3,300,000 | 4 | 4 | 5,050 | 653 |
| 07/21/2022 | #904 | $1,120,000 | 1 | 1 | 1,380 | 812 |
| 06/28/2022 | #607 | $1,224,000 | 1 | 1 | 1,690 | 724 |
| 01/24/2022 | #505 | $2,750,000 | 2 | 2 | 2,880 | 955 |
| 01/24/2022 | #1804 | $905,000 | 1 | 1 | 1,380 | 656 |
| 01/11/2022 | #501 | $2,200,000 | 2 | 2 | 2,810 | 783 |
| 11/23/2021 | #1808 | $740,000 | 1 | 1 | 1,200 | 617 |
| 09/16/2021 | #2303 | $1,900,000 | 2 | 2 | 2,660 | 714 |
| 09/10/2021 | #1508 | $720,000 | 1 | 1 | 1,200 | 600 |
| 09/02/2021 | #1205 | $1,637,500 | 2 | 2 | 2,220 | 738 |
| 08/20/2021 | #510 | $729,000 | 1 | 1 | 1,450 | 503 |
Meridian - All Closings / Sales History
Meridian - Available Rentals
#1308
Price:


$4,500

Beds:
1
Baths:
1
Sq.Ft.:
1,200
Community:
Horton Plaza
Listed:
07/18/2023
MLS#:
230013872
Office Info:
MODERNE Real Estate, Inc
#1104
Price:


$4,995

Beds:
1
Baths:
1
Sq.Ft.:
1,380
Community:
Horton Plaza
Listed:
06/09/2023
MLS#:
230011425
Office Info:
Real Broker
Meridian - Recently Rented
| Closed | Unit# | Sale price | Bed | Bath | Sqft | Price/SqFT |
| --- | --- | --- | --- | --- | --- | --- |
| 08/24/2022 | #1308 | $4,300 | 1 | 1 | 1,200 | 4 |
| 04/30/2022 | #2305 | $4,200 | 1 | 1 | 1,460 | 3 |
| 01/03/2022 | #1308 | $4,300 | 1 | 1 | 1,200 | 4 |
| 07/23/2021 | #906 | $3,000 | 1 | 1 | 1,590 | 2 |
| 08/01/2020 | #1202 | $5,700 | 2 | 2 | 1,940 | 3 |
| 06/15/2019 | #2006 | $5,000 | 2 | 2 | 1,950 | 3 |
| 03/01/2019 | #1507 | $5,000 | 2 | 2 | 1,950 | 3 |
| 12/22/2018 | #804 | $6,000 | 2 | 2 | 2,610 | 2 |
| 12/17/2018 | #1308 | $3,395 | 1 | 1 | 1,200 | 3 |
| 12/01/2018 | #2402 | $6,500 | 3 | 2 | 3,050 | 2 |
| 08/31/2018 | #1507 | $5,000 | 2 | 2 | 1,950 | 3 |
| 06/01/2018 | #708 | $3,500 | 1 | 1 | 1,320 | 3 |
| 05/25/2018 | #805 | $4,000 | 2 | 2 | 1,590 | 3 |
| 05/06/2014 | #2305 | $3,400 | 1 | 1 | 1,460 | 2 |
| 09/13/2013 | #1507 | $3,950 | 2 | 2 | 1,950 | 2 |