Metrome
Neighborhood: East Village
Address:  1150 J
Year Built:  2005
Stories:  8
Units:  184
Property Management Company:  Merit - 858.457.0200
The Metrome is an 8-story complex located on the northern corner of J and 11th. The project includes 184 downtown San Diego real estate condos of various floorplans: studio apartments, studio apartments with bonus area and 1 & 2 bedroom condominiums. Barratt American completed the construction in July 2005. The contemporary design of the complex is courtesy architect Salerno-Livingston.
Metrome homes feature: Slate flooring in the entry, kitchens and baths, 4 burner black glass cook-top, Slab granite countertops with 4" backsplash, maple cabinetry, cafe-style lighting of the breakfast bar, chrome fittings in baths and sliding mirrored doors in master baths. Stainless steel Frigidaire appliances comprising a dishwasher, oven and microwave are included in the kitchens.
The complex amenities include a "Living Room" which is a fully accessorized lobby bar, a fully equipped first floor fitness studio, callbox at the secured entry gate and secured underground parking. An excellent interior courtyard is landscaped to include an outdoor water fountain, long stone path and six bamboo rooms.
The Metrome is located along the park-bay link in downtown San Diego's East Village district. The Downtown public library, Thomas Jefferson School of Law and Petco Park are all just a block away.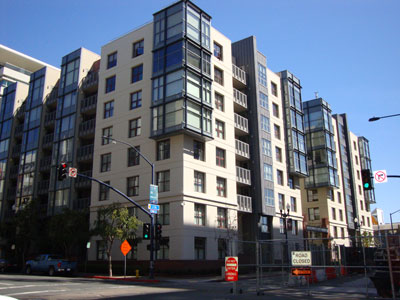 Metrome - Condos & Lofts For Sale:
Metrome - Recent Closings / Sales
| Closed | Unit# | Sale price | Bed | Bath | Sqft | Price/SqFT |
| --- | --- | --- | --- | --- | --- | --- |
| 04/28/2023 | #212 | $485,000 | 1 | 1 | 735 | 660 |
| 04/25/2023 | #419 | $672,000 | 2 | 2 | 1,116 | 602 |
| 04/21/2023 | #809 | $775,000 | 2 | 2 | 1,224 | 633 |
| 02/21/2023 | #215 | $655,000 | 2 | 2 | 1,148 | 571 |
| 02/09/2023 | #206 | $474,000 | 1 | 1 | 681 | 696 |
| 09/19/2022 | #824 | $445,000 | 0 | 1 | 718 | 620 |
| 09/04/2022 | #710 | $455,000 | 1 | 1 | 735 | 619 |
| 09/01/2022 | #724 | $410,000 | 0 | 1 | 718 | 571 |
| 08/24/2022 | #220 | $550,000 | 2 | 1 | 966 | 569 |
| 08/16/2022 | #702 | $410,000 | 0 | 1 | 718 | 571 |
| 08/12/2022 | #504 | $555,000 | 1+ | 1 | 994 | 558 |
| 08/01/2022 | #512 | $490,000 | 1 | 1 | 735 | 667 |
| 07/28/2022 | #610 | $450,000 | 1 | 1 | 735 | 612 |
| 06/21/2022 | #117 | $580,000 | 1+ | 1 | 1,000 | 580 |
| 06/06/2022 | #406 | $605,500 | 1+ | 1 | 994 | 609 |
Metrome - All Closings / Sales History
Metrome - Available Rentals
#101
Price:


$3,000

Beds:
0
Baths:
1
Sq.Ft.:
631
Community:
East Village
Listed:
05/25/2023
MLS#:
230009943
Office Info:
Compass
Metrome - Recently Rented
| Closed | Unit# | Sale price | Bed | Bath | Sqft | Price/SqFT |
| --- | --- | --- | --- | --- | --- | --- |
| 04/12/2023 | #807 | $5,250 | 2 | 2 | 1,199 | 4 |
| 02/17/2023 | #514 | $2,500 | 1 | 1 | 735 | 3 |
| 09/07/2022 | #423 | $1,950 | 0 | 1 | 572 | 3 |
| 08/03/2022 | #415 | $2,495 | 1 | 1 | 735 | 3 |
| 07/06/2022 | #202 | $2,600 | 1+ | 1 | 966 | 3 |
| 02/04/2022 | #312 | $2,250 | 1 | 1 | 735 | 3 |
| 10/25/2021 | #514 | $2,200 | 1 | 1 | 735 | 3 |
| 09/20/2021 | #711 | $1,995 | 1 | 1 | 735 | 3 |
| 09/07/2021 | #315 | $2,200 | 1 | 1 | 735 | 3 |
| 07/11/2021 | #524 | $2,000 | 0+ | 1 | 718 | 3 |
| 06/11/2021 | #202 | $2,300 | 1+ | 1 | 966 | 2 |
| 03/24/2021 | #213 | $1,795 | 1 | 1 | 735 | 2 |
| 03/23/2021 | #403 | $1,745 | 0 | 1 | 571 | 3 |
| 12/07/2020 | #711 | $1,800 | 1 | 1 | 735 | 2 |
| 12/01/2020 | #417 | $2,595 | 2 | 2 | 1,148 | 2 |