Nexus
Neighborhood: East Village
Address:  875 G
Year Built:  2006
Stories:  8
Units:  76
Property Management Company:  Helm Management - 619.589.6222 ext.11
Nexus is an 8-story Centex Homes development in the East Village District of downtown San Diego. The building is located on the southwest corner of 9th and G, the mixed use project houses 76 condos and approximately 3,000 square feet of retail space. Residences are offered in varied floorplans including studio, one and two bedrooms ranging from 600-1,300 square feet in size.
Homes offer all the necessary downtown fine living features. Some units have separate terraces and at plaza level two story live/work units are available. The building has an innovative stepped architecture and sports burnished brick, metal trellises, projected balconies, rooflines and exposed steel beams.
Community amenities include a common 7th floor terrace, a fitness center, clubhouse and three levels of underground parking. Nexus is centrally located very close to Petco Park and various Gaslamp quarter entertainment, art and fine dining attractions. The trolley station and convenient freeway access are an added bonus.
This is a New Project Units: 68 Completion Date: 2006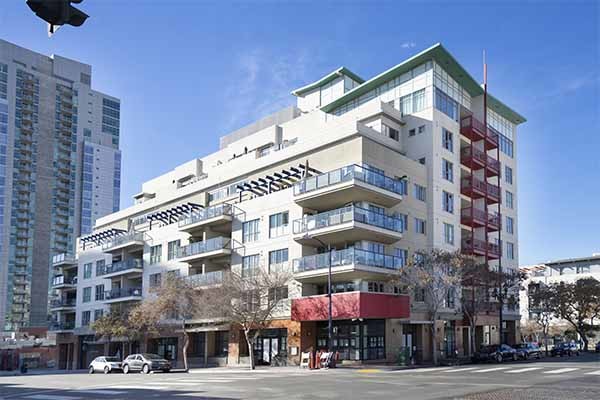 Nexus - Condos & Lofts For Sale:
Nexus - Recent Closings / Sales
| Closed | Unit# | Sale price | Bed | Bath | Sqft | Price/SqFT |
| --- | --- | --- | --- | --- | --- | --- |
| 02/21/2023 | #303 | $618,000 | 2 | 2 | 934 | 662 |
| 12/07/2022 | #204 | $499,000 | 1 | 1 | 737 | 677 |
| 08/10/2022 | #706 | $509,500 | 0 | 1 | 687 | 742 |
| 06/16/2022 | #308 | $580,000 | 1 | 1 | 839 | 691 |
| 06/01/2022 | #213 | $610,000 | 1 | 1 | 745 | 819 |
| 04/15/2022 | #307 | $605,000 | 1 | 1 | 805 | 752 |
| 04/14/2022 | #509 | $640,000 | 1 | 1 | 966 | 663 |
| 04/07/2022 | #213 | $590,000 | 1 | 1 | 745 | 792 |
| 07/27/2021 | #304 | $425,000 | 1 | 1 | 737 | 577 |
| 07/09/2021 | #406 | $515,800 | 1 | 1 | 784 | 658 |
| 07/09/2021 | #409 | $530,000 | 1 | 1 | 1,033 | 513 |
| 03/16/2021 | #411 | $425,000 | 1 | 1 | 725 | 586 |
| 11/10/2020 | #806 | $395,000 | 1 | 1 | 681 | 580 |
| 09/30/2020 | #309 | $460,000 | 1 | 1 | 1,033 | 445 |
| 09/21/2020 | #507 | $405,000 | 1 | 1 | 735 | 551 |
Nexus - All Closings / Sales History
Nexus - Available Rentals
Nexus - Recently Rented
| Closed | Unit# | Sale price | Bed | Bath | Sqft | Price/SqFT |
| --- | --- | --- | --- | --- | --- | --- |
| 10/26/2022 | #703 | $3,500 | 2 | 2 | 1,352 | 3 |
| 06/07/2021 | #703 | $3,300 | 2 | 2 | 1,352 | 2 |
| 04/28/2021 | #703 | $3,300 | 2 | 2 | 1,352 | 2 |
| 03/21/2021 | #804 | $3,250 | 2 | 2 | 1,294 | 3 |
| 01/01/2021 | #204 | $2,000 | 1 | 1 | 737 | 3 |
| 11/20/2020 | #506 | $2,195 | 1 | 1 | 715 | 3 |
| 10/22/2020 | #507 | $2,250 | 1 | 1 | 735 | 3 |
| 12/11/2019 | #201 | $1,850 | 0 | 1 | 734 | 3 |
| 07/23/2019 | #401 | $1,750 | 0 | 1 | 720 | 2 |
| 06/25/2019 | #206 | $2,750 | 1 | 1 | 750 | 4 |
| 05/26/2019 | #207 | $1,995 | 1 | 1 | 805 | 2 |
| 05/15/2019 | #206 | $2,800 | 1 | 1 | 750 | 4 |
| 02/01/2019 | #210 | $2,000 | 0 | 1 | 768 | 3 |
| 11/20/2018 | #401 | $1,695 | 0 | 1 | 720 | 2 |
| 08/29/2018 | #208 | $1,995 | 1 | 1 | 834 | 2 |