Pacific Terrace
Neighborhood: Marina
Address:  330 J
Year Built:  2003
Stories:  6
Units:  57
Property Management Company:  Prescott - 619.230.1891
Intracorp's 6-story complex, Pacific Terrace, is located on J Street in downtown San Diego's Marina neighborhood built in 2003. The building houses 57 condos and 6,000 sq. ft. of retail space. Units are available in 1 or 2 bedroom homes, some including a den and are about 600 - 1,250 square feet in size.
Each home features plush carpeting throughout living areas, raised panel interior doors, large bedroom closets, European cabinets and granite counter tops, GE appliances including a refrigerator, microwave, oven and dishwasher, and stacked washer & dryer apart from other expected amenities. The interior is enhanced by the high ceilings, dual-glazed large windows and balconies.
The complex features gated and landscaped entries, a landscaped courtyard, non-combustible construction, trash areas and gated underground parking. The sixth floor terrace with a sundeck and barbeque is a great area for hosting parties.
Pacific Terrace is located centrally which means actually living downtown San Diego's energetic luxury lifestyle. Pacific Terrace is right next to the Horton Grand Theatre and 3 blocks from Horton Plaza, the Marina, and the baseball park. Gaslamp Quarter's fine restaurants and clubs are a few minutes away.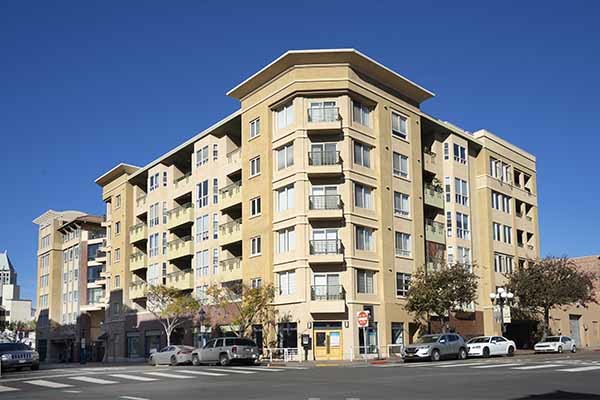 Pacific Terrace - Condos & Lofts For Sale:
Pacific Terrace - Recent Closings / Sales
| Closed | Unit# | Sale price | Bed | Bath | Sqft | Price/SqFT |
| --- | --- | --- | --- | --- | --- | --- |
| 04/17/2023 | #401 | $500,000 | 1 | 1 | 773 | 647 |
| 11/04/2022 | #307 | $636,000 | 1+ | 1 | 892 | 713 |
| 06/28/2022 | #210 | $729,000 | 2 | 2 | 1,012 | 720 |
| 03/24/2022 | #605 | $699,000 | 2 | 2 | 925 | 756 |
| 03/07/2022 | #612 | $498,500 | 1 | 1 | 623 | 800 |
| 12/14/2021 | #308 | $650,000 | 2 | 2 | 1,000 | 650 |
| 09/14/2021 | #510 | $650,000 | 2 | 2 | 1,022 | 636 |
| 02/03/2021 | #507 | $475,000 | 1+ | 1 | 892 | 533 |
| 01/15/2021 | #205 | $505,000 | 2 | 2 | 925 | 546 |
| 10/29/2020 | #202 | $519,500 | 2 | 2 | 976 | 532 |
| 10/15/2020 | #608 | $659,000 | 2 | 2 | 1,121 | 588 |
| 03/11/2020 | #505 | $525,000 | 2 | 2 | 925 | 568 |
| 02/26/2020 | #210 | $544,000 | 2 | 2 | 1,012 | 538 |
| 01/23/2020 | #511 | $463,000 | 2 | 1 | 836 | 554 |
| 06/08/2018 | #407 | $487,500 | 1+ | 1 | 892 | 547 |
Pacific Terrace - All Closings / Sales History
Pacific Terrace - Available Rentals
Pacific Terrace - Recently Rented
| Closed | Unit# | Sale price | Bed | Bath | Sqft | Price/SqFT |
| --- | --- | --- | --- | --- | --- | --- |
| 07/01/2022 | #606 | $2,950 | 2 | 2 | 943 | 3 |
| 01/08/2022 | #308 | $3,200 | 2 | 2 | 1,000 | 3 |
| 12/06/2021 | #406 | $2,900 | 2 | 2 | 1,000 | 3 |
| 10/19/2021 | #406 | $2,750 | 2 | 2 | 1,000 | 3 |
| 09/20/2021 | #305 | $2,975 | 2 | 2 | 925 | 3 |
| 08/25/2021 | #603 | $3,000 | 2 | 2 | 1,250 | 2 |
| 03/01/2021 | #507 | $2,100 | 1+ | 1 | 892 | 2 |
| 08/14/2020 | #503 | $2,650 | 2 | 2 | 1,251 | 2 |
| 04/29/2020 | #606 | $2,250 | 2 | 2 | 943 | 2 |
| 01/31/2020 | #602 | $2,600 | 2 | 2 | 976 | 3 |
| 12/28/2019 | #401 | $2,000 | 1 | 1 | 773 | 3 |
| 06/01/2019 | #503 | $2,650 | 2 | 2 | 1,251 | 2 |
| 07/31/2018 | #602 | $2,600 | 2 | 2 | 976 | 3 |
| 05/30/2018 | #607 | $2,100 | 1+ | 1 | 892 | 2 |
| 04/02/2018 | #606 | $2,350 | 2 | 2 | 943 | 2 |