Palermo
Neighborhood: Cortez Hill
Address:  1501 Front
Year Built:  2004
Stories:  6
Units:  230
Property Management Company:  Action 619.786.7497
Palermo
is located on the corner of Beech and Front in downtown San Diego. The 6-story building houses 230 downtown San Diego real estate units which are about 555-1,568 sq. ft. in size. Residences are a mix of Lofts, 1, 2 & 3 bedrooms. The wood & stucco construction by Barone Glasso & Associates was completed in July 2004.
Palermo offers street facing as well as courtyard facing units. Work-live San Diego downtown lofts take up the ground floor. The upper floors feature high ceilings and city views. Anyone living in a big city will certainly appreciate the three levels of underground parking that Palermo offers.
Palermo has two courtyards. The Piazza Giardino with a water feature and tropical landscape is extremely pleasant for walks. For those who like the adrenaline rush, an in-house fitness facility and swimming pool is available. Additional recreational facilities include a spa and sundeck.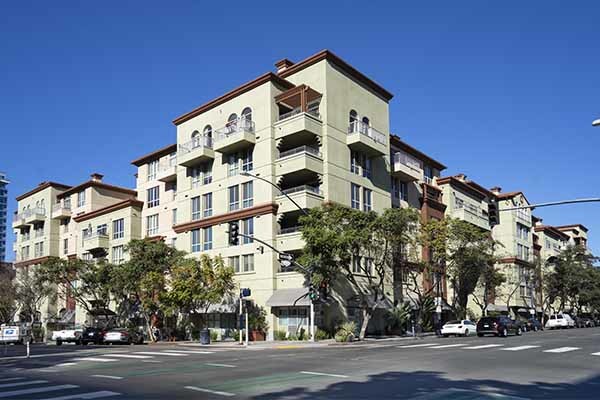 Palermo - Condos & Lofts For Sale:
#616
Price:


$825,000

Beds:
2
Baths:
2
Sq.Ft.:
1,027
Community:
Cortez Hill
Listed:
07/13/2023
MLS#:
230013707
Office Info:
eXp Realty of California, Inc.
Palermo - Recent Closings / Sales
| Closed | Unit# | Sale price | Bed | Bath | Sqft | Price/SqFT |
| --- | --- | --- | --- | --- | --- | --- |
| 04/04/2023 | #108 | $715,000 | 2 | 1 | 1,018 | 702 |
| 03/23/2023 | #635 | $474,900 | 0+ | 1 | 663 | 716 |
| 02/14/2023 | #436 | $510,000 | 1 | 1 | 658 | 775 |
| 12/23/2022 | #422 | $705,000 | 2 | 2 | 1,058 | 666 |
| 11/22/2022 | #638 | $578,000 | 1 | 1 | 721 | 802 |
| 11/09/2022 | #420 | $580,000 | 1 | 1 | 781 | 743 |
| 10/17/2022 | #610 | $605,000 | 1 | 1 | 845 | 716 |
| 09/27/2022 | #301 | $840,000 | 3 | 2 | 1,568 | 536 |
| 08/19/2022 | #219 | $585,000 | 1 | 1 | 888 | 659 |
| 07/20/2022 | #430 | $560,000 | 1 | 1 | 645 | 868 |
| 07/12/2022 | #532 | $515,000 | 0 | 1 | 663 | 777 |
| 06/22/2022 | #325 | $765,000 | 2 | 2 | 1,068 | 716 |
| 06/03/2022 | #523 | $953,000 | 3 | 2 | 1,568 | 608 |
| 06/01/2022 | #511 | $437,500 | 1 | 1 | 555 | 788 |
| 05/06/2022 | #115 | $775,000 | 0+ | 1 | 1,096 | 707 |
Palermo - All Closings / Sales History
Palermo - Available Rentals
#329
Price:


$2,895

Beds:
1
Baths:
1
Sq.Ft.:
721
Community:
Cortez Hill
Listed:
07/01/2023
MLS#:
230012683
Office Info:
San Diego's Finest RE GroupInc
Palermo - Recently Rented
| Closed | Unit# | Sale price | Bed | Bath | Sqft | Price/SqFT |
| --- | --- | --- | --- | --- | --- | --- |
| 05/01/2023 | #345 | $2,250 | 1 | 1 | 658 | 3 |
| 02/01/2023 | #329 | $2,795 | 1 | 1 | 721 | 4 |
| 11/15/2022 | #501 | $4,000 | 3 | 2 | 1,568 | 3 |
| 07/27/2022 | #326 | $2,800 | 1 | 1 | 781 | 4 |
| 05/19/2022 | #235 | $3,100 | 1 | 1 | 663 | 5 |
| 04/21/2022 | #345 | $2,250 | 1 | 1 | 658 | 3 |
| 01/21/2022 | #102 | $2,600 | 1 | 1 | 900 | 3 |
| 08/30/2021 | #646 | $1,800 | 1 | 1 | 658 | 3 |
| 08/30/2021 | #507 | $2,350 | 1 | 1 | 749 | 3 |
| 07/30/2021 | #329 | $2,350 | 1 | 1 | 721 | 3 |
| 06/18/2021 | #501 | $3,800 | 3 | 2 | 1,568 | 2 |
| 06/18/2021 | #511 | $1,800 | 1 | 1 | 555 | 3 |
| 06/17/2021 | #301 | $3,650 | 3 | 2 | 1,568 | 2 |
| 04/06/2021 | #415 | $2,700 | 2 | 2 | 1,106 | 2 |
| 03/29/2021 | #302 | $3,500 | 2 | 2 | 1,058 | 3 |