Park Boulevard East
Neighborhood: East Village
Address:  1225 Island
Year Built:  2005
Stories:  6
Units:  107
Property Management Company:  Urban Property Services - 619.595.0003
Park Boulevard East is located on Island Avenue in Downtown San Diego's East Village neighborhood built in 2005. This is a 6-story complex by Western Pacific Housing and houses 107 San Diego downtown condos in varied floor plans including 1, 2, 3 Bedroom condos, Lofts and 2 Bedroom + lofts.
The complex is constructed in steel frame and wood. Units are characterized by high ceilings, spiral staircases and some even have their own rooftop terraces. Ground floor condos and top floor lofts are markedly different from the rest of the apartment style units.
Park Boulevard East is a secure, gated complex with a landscaped courtyard and an outdoor spa & deck. The complex has secure underground parking space which includes a bicycle storage room. The facilities are well maintained with the help of an outside facilities coordinator.
Being located on the bay link and only two blocks away from the Padres home - PetCo Park means the complex accords an easy access to the sea along with being situated at a prime location.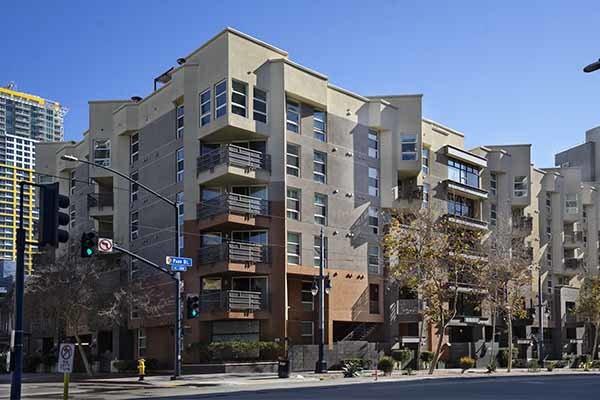 Park Boulevard East - Condos & Lofts For Sale:
#303
Price:


$520,000

Beds:
1
Baths:
1
Sq.Ft.:
875
Community:
East Village
Listed:
07/20/2023
MLS#:
230014052
Office Info:
Coldwell Banker Realty
Park Boulevard East - Recent Closings / Sales
| Closed | Unit# | Sale price | Bed | Bath | Sqft | Price/SqFT |
| --- | --- | --- | --- | --- | --- | --- |
| 04/07/2023 | #211 | $475,000 | 1 | 1 | 667 | 712 |
| 03/02/2023 | #503 | $535,000 | 1 | 1 | 892 | 600 |
| 01/31/2023 | #616 | $509,900 | 1 | 1 | 646 | 789 |
| 12/23/2022 | #511 | $450,000 | 1 | 1 | 667 | 675 |
| 10/14/2022 | #201 | $670,000 | 2 | 2 | 988 | 678 |
| 09/08/2022 | #509 | $510,000 | 1 | 1 | 898 | 568 |
| 07/29/2022 | #106 | $561,000 | 1 | 1 | 865 | 649 |
| 06/29/2022 | #203 | $494,000 | 1 | 1 | 815 | 606 |
| 06/14/2022 | #208 | $706,000 | 2 | 2 | 1,111 | 635 |
| 05/25/2022 | #504 | $682,000 | 2 | 2 | 1,111 | 614 |
| 05/06/2022 | #211 | $465,000 | 1 | 1 | 667 | 697 |
| 04/18/2022 | #110 | $465,000 | 1 | 1 | 667 | 697 |
| 03/10/2022 | #610 | $555,000 | 1 | 1 | 667 | 832 |
| 03/02/2022 | #404 | $702,000 | 2 | 2 | 1,172 | 599 |
| 02/23/2022 | #611 | $560,000 | 1 | 1 | 667 | 840 |
Park Boulevard East - All Closings / Sales History
Park Boulevard East - Available Rentals
#315
Price:


$3,200

Beds:
1
Baths:
1
Sq.Ft.:
646
Community:
East Village
Listed:
09/06/2022
MLS#:
305784802
Office Info:
Stay Coronado
Park Boulevard East - Recently Rented
| Closed | Unit# | Sale price | Bed | Bath | Sqft | Price/SqFT |
| --- | --- | --- | --- | --- | --- | --- |
| 05/01/2023 | #416 | $2,200 | 1 | 1 | 646 | 3 |
| 12/13/2022 | #516 | $2,050 | 1 | 1 | 646 | 3 |
| 11/18/2022 | #305 | $2,900 | 2 | 2 | 1,034 | 3 |
| 09/28/2022 | #314 | $2,500 | 1 | 1 | 892 | 3 |
| 03/25/2022 | #502 | $2,800 | 2 | 2 | 1,172 | 2 |
| 03/18/2022 | #102 | $3,100 | 2 | 2 | 1,415 | 2 |
| 09/17/2021 | #314 | $2,400 | 1 | 1 | 892 | 3 |
| 08/03/2021 | #602 | $3,050 | 2 | 2 | 1,172 | 3 |
| 06/14/2021 | #204 | $2,750 | 2 | 2 | 1,111 | 2 |
| 05/16/2021 | #211 | $1,850 | 1 | 1 | 667 | 3 |
| 12/01/2020 | #402 | $2,600 | 2 | 2 | 1,172 | 2 |
| 09/22/2020 | #314 | $2,200 | 1 | 1 | 892 | 2 |
| 09/01/2020 | #602 | $2,800 | 2 | 2 | 1,172 | 2 |
| 06/24/2020 | #412 | $2,300 | 2 | 2 | 1,200 | 2 |
| 06/11/2020 | #410 | $1,795 | 1 | 1 | 667 | 3 |