Park Place
Neighborhood: Marina
Address:  700 W Harbor
Year Built:  2003
Stories:  30
Units:  178
Property Management Company:  Prescott - 619.236.0690 
Park Place, developed by BOSA Developers is located in Downtown San Diego's prestigious Marina District. It's a San Diego waterfront landmark and stands at Kettner Boulevard on West Harbor Drive built in 2003. The 30-story, 178 unit high-rise offers 1, 2 & 3 bedroom floor plans starting at 1,113 square feet.
Park Place's exterior architecture is styled in a contemporary, mission inspired manner. Its magnificent entrance lobby showcases a dramatic high ceiling, limestone flooring and a grand stairway. The architects Dikeakos & Cotter have designed Park Place to truly reflect elegance. To emphasize this very elegance they've used white as their preferred exterior color and an iron sculpture at the entrance.
Homeowners at Park Place are privy to well appointed interiors and complex amenities. Their downtown condo offers spectacular views of the sea dotted with sails and boats meeting the endless sky. Homes also feature an exquisite limestone fireplace.
Park Place ammenities include a swimming pool, spa and fitness center, landscaped courtyard with a barbeque area and a relaxing lounge area for the residents use. It is conveniently located near the San Diego Marriott, Seaport village, Ralph's and Horton Shopping Plaza. The ballpark and Gaslamp Quarter are both just a few minutes walking distance away.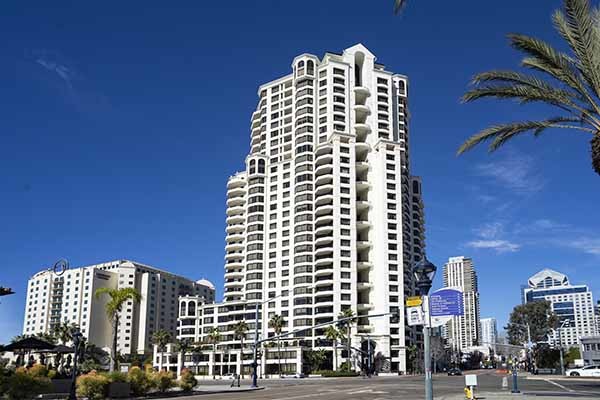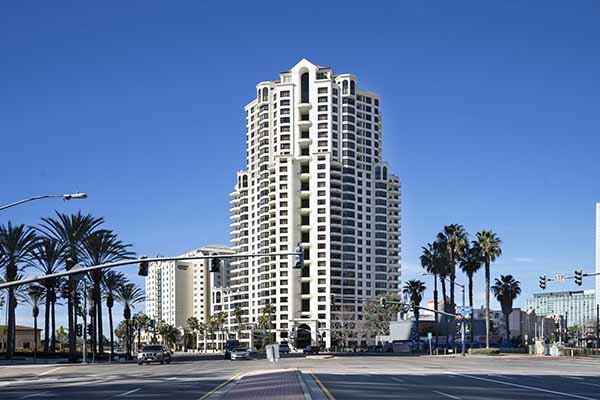 Park Place - Condos & Lofts For Sale:
#406
Price:


$1,029,000

Beds:
2
Baths:
2
Sq.Ft.:
1,227
Community:
Marina
Listed:
03/21/2023
MLS#:
230005274
Office Info:
Shoreline Realty Group
#1902
Price:


$1,349,000

Beds:
2
Baths:
2
Sq.Ft.:
1,192
Community:
Marina
Listed:
06/26/2023
MLS#:
230012263
Office Info:
Compass
Park Place - Recent Closings / Sales
| Closed | Unit# | Sale price | Bed | Bath | Sqft | Price/SqFT |
| --- | --- | --- | --- | --- | --- | --- |
| 02/17/2023 | #503 | $1,049,000 | 2 | 2 | 1,192 | 880 |
| 01/31/2023 | #304 | $1,150,000 | 2 | 2 | 1,575 | 730 |
| 11/10/2022 | #2103 | $1,515,000 | 2 | 2 | 1,374 | 1103 |
| 09/19/2022 | #305 | $1,040,000 | 2 | 2 | 1,114 | 934 |
| 08/12/2022 | # | $1,340,000 | 3 | 3 | 1,615 | 830 |
| 08/01/2022 | #301 | $1,145,000 | 2 | 2 | 1,545 | 741 |
| 06/03/2022 | #2303 | $1,375,000 | 2 | 2 | 1,353 | 1016 |
| 06/03/2022 | #2602 | $3,175,000 | 2+ | 2 | 2,047 | 1551 |
| 05/16/2022 | #1002 | $985,000 | 2 | 2 | 1,192 | 826 |
| 04/21/2022 | #903 | $1,369,000 | 2 | 2 | 1,374 | 996 |
| 02/23/2022 | #608 | $725,000 | 1+ | 2 | 1,013 | 716 |
| 02/15/2022 | #2001 | $1,550,000 | 2 | 2 | 1,357 | 1142 |
| 02/04/2022 | #1303 | $1,323,000 | 2 | 2 | 1,374 | 963 |
| 02/03/2022 | #2802 | $2,950,000 | 3 | 2 | 2,047 | 1441 |
| 01/14/2022 | #1502 | $995,000 | 2 | 2 | 1,192 | 835 |
Park Place - All Closings / Sales History
Park Place - Available Rentals
Park Place - Recently Rented
| Closed | Unit# | Sale price | Bed | Bath | Sqft | Price/SqFT |
| --- | --- | --- | --- | --- | --- | --- |
| 05/01/2023 | #705 | $6,600 | 2 | 2 | 1,363 | 5 |
| 04/14/2023 | #1006 | $4,495 | 2 | 2 | 1,113 | 4 |
| 03/01/2023 | #2106 | $4,695 | 1 | 2 | 1,013 | 5 |
| 11/19/2022 | #1603 | $4,650 | 2 | 2 | 1,192 | 4 |
| 08/13/2022 | #1003 | $4,875 | 2 | 2 | 1,374 | 4 |
| 06/01/2022 | # | $4,850 | 3 | 3 | 1,615 | 3 |
| 03/31/2022 | #2803 | $5,995 | 3 | 2 | 1,704 | 4 |
| 03/05/2022 | #801 | $5,000 | 2 | 2 | 1,545 | 3 |
| 11/09/2021 | #1603 | $4,800 | 2 | 2 | 1,192 | 4 |
| 10/01/2021 | #1802 | $4,200 | 2 | 2 | 1,376 | 3 |
| 06/01/2021 | #2101 | $4,500 | 1+ | 1 | 1,545 | 3 |
| 04/21/2021 | #1705 | $4,300 | 2 | 2 | 1,233 | 3 |
| 04/13/2021 | # | $4,450 | 3 | 3 | 1,615 | 3 |
| 02/09/2021 | #2102 | $4,490 | 2 | 2 | 1,374 | 3 |
| 02/01/2021 | #2803 | $5,500 | 3 | 2 | 1,704 | 3 |