Park Terrace
Neighborhood: East Village
Address:  253 10th
Year Built:  2007
Stories:  14
Units:  223
Property Management Company:  Ark Management - 619.269.6666
This is a two building complex located at 206 Park Boulevard in downtown San Diego's East Village neighborhood. One of the towers has 8 stories and the other 14. The complex offers 223 downtown san diego condo units and about 20,000 square feet of retail space. Units are available as 1, 1+den & 2 bedroom residences from 441-1,205 square feet in size.
Intracorp's concrete, steel, brick and stucco construction is one of San Diego's newest, just completed in 2007. Park Terrace homes are elegantly done up and feature 9 foot ceilings, exterior decks or terraces, dual glazed windows, granite kitchen countertops, stacked washer& dryer and stainless steel appliances.
Park Terrace has two terraces, one on the 5th floor and one on the 2nd. The 2nd floor terrace includes a furnished BBQ and lounge area. A recreation room and a fully equipped gym are at the residents' perusal. Building entrances are secure and the parking garage is gated.
The complex is right next to Petco Park and very close to the other downtown neighborhoods. Its unique location means downtown San Diego's restaurants, theatres and pubs are just a few minutes away.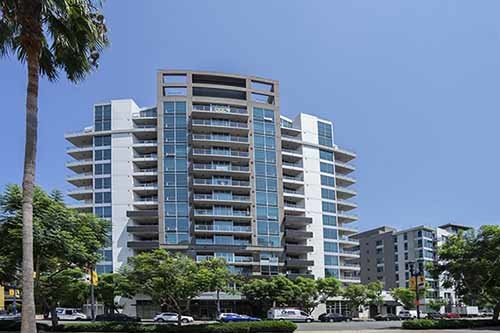 Park Terrace - Condos & Lofts For Sale:
#702
Price:


$559,000

Beds:
1
Baths:
1
Sq.Ft.:
696
Community:
East Village
Listed:
06/21/2023
MLS#:
305955714
Office Info:
FOUNDERS ALLIANCE REAL ESTATE
#623
Price:


$714,900

Beds:
1 (1 den)
Baths:
1
Sq.Ft.:
1,065
Community:
East Village
Listed:
06/22/2023
MLS#:
230012469
Office Info:
Palisade Realty, Inc
Park Terrace - Recent Closings / Sales
| Closed | Unit# | Sale price | Bed | Bath | Sqft | Price/SqFT |
| --- | --- | --- | --- | --- | --- | --- |
| 05/04/2023 | #629 | $650,000 | 1 | 1 | 831 | 782 |
| 12/22/2022 | #305 | $410,000 | 0 | 1 | 619 | 662 |
| 11/01/2022 | #402 | $460,000 | 1 | 1 | 696 | 661 |
| 10/17/2022 | #504 | $725,000 | 2 | 2 | 1,101 | 658 |
| 10/13/2022 | #433 | $520,000 | 1 | 1 | 808 | 644 |
| 09/02/2022 | #702 | $462,000 | 1 | 1 | 696 | 664 |
| 09/01/2022 | #529 | $550,000 | 1 | 1 | 831 | 662 |
| 08/26/2022 | #704 | $715,000 | 2 | 2 | 1,101 | 649 |
| 08/23/2022 | #833 | $1,060,000 | 2 | 2 | 1,379 | 769 |
| 08/16/2022 | #623 | $660,000 | 1+ | 1 | 1,065 | 620 |
| 08/15/2022 | #432 | $520,000 | 1 | 1 | 807 | 644 |
| 07/29/2022 | #224 | $525,000 | 1 | 1 | 739 | 710 |
| 06/27/2022 | #720 | $888,000 | 2 | 2 | 1,205 | 737 |
| 05/31/2022 | #223 | $685,000 | 1+ | 1 | 1,065 | 643 |
| 05/04/2022 | #631 | $560,000 | 1 | 1 | 812 | 690 |
Park Terrace - All Closings / Sales History
Park Terrace - Available Rentals
#234
Price:


$2,750

Beds:
1
Baths:
1
Sq.Ft.:
905
Community:
East Village
Listed:
11/21/2022
MLS#:
305864263
Office Info:
Auker Group
#513
Price:


$3,300

Beds:
1
Baths:
1
Sq.Ft.:
780
Community:
East Village
Listed:
01/06/2021
MLS#:
210000223
Office Info:
Matthew Jay Matson
#504
Price:


$4,150

Beds:
2
Baths:
2
Sq.Ft.:
1,101
Community:
East Village
Listed:
05/11/2023
MLS#:
305924527
Office Info:
Real Broker
Park Terrace - Recently Rented
| Closed | Unit# | Sale price | Bed | Bath | Sqft | Price/SqFT |
| --- | --- | --- | --- | --- | --- | --- |
| 04/19/2023 | #607 | $2,500 | 1 | 1 | 735 | 3 |
| 04/07/2023 | #509 | $3,500 | 1 | 1 | 831 | 4 |
| 02/27/2023 | #728 | $2,495 | 0 | 1 | 514 | 5 |
| 12/03/2022 | #707 | $2,995 | 1 | 1 | 800 | 4 |
| 11/22/2022 | #322 | $2,600 | 1 | 1 | 739 | 4 |
| 08/23/2022 | #225 | $3,400 | 2 | 2 | 1,017 | 3 |
| 08/15/2022 | #801 | $3,895 | 2 | 2 | 1,270 | 3 |
| 07/25/2022 | #1205 | $2,950 | 1 | 1 | 739 | 4 |
| 07/01/2022 | #232 | $3,300 | 1 | 1 | 850 | 4 |
| 03/17/2022 | #607 | $3,200 | 1 | 1 | 735 | 4 |
| 10/23/2021 | #321 | $3,465 | 2 | 2 | 1,015 | 3 |
| 10/11/2021 | #722 | $2,400 | 1 | 1 | 739 | 3 |
| 10/11/2021 | #205 | $1,650 | 0 | 1 | 619 | 3 |
| 09/10/2021 | #528 | $2,149 | 0 | 1 | 514 | 4 |
| 08/01/2021 | #727 | $2,900 | 1 | 1 | 800 | 4 |