Pinnacle
Neighborhood: Marina
Address:  550 Front
Year Built:  2005
Stories:  35
Units:  182
Property Management Company:  Prescott - 619.533.7963
The Pinnacle is a 35-story luxury high rise located extremely close to the bay at 550 Front Street, Marina District. This 2005 complex by Pinnacle development includes 182 condominiums, 10,000 sq. ft. retail space and a 58,000 sq. ft. San Diego Children's Discovery Museum. 1, 2, 3 bedrooms and penthouses are available. The size ranges from 780 to 3,700 sq. ft.
Pinnacle homes make a statement with their 10-12 foot high ceilings and spacious interiors touched with marble, ceramic, chrome, brass and polished woods. Each home is pre-wired for high-speed internet and cable TV. All Pinnacle condos offer stunning views and many have two inviting terrace sized balconies. A granite and marble fireplace adorns the living room and designer carpets coat living areas. The kitchens feature granite or marble countertops, branded appliances, gas cooktops and built-in ovens. Luxurious bathrooms have soaker tubs and separate showers finished in glass and tile and vanity mirrors.
The Pinnacle residents' Tower is renowned in San Diego. The club showcases a 95 foot outdoor lap pool leading onto a pool deck, a media lounge with a large screen cinema, billiards and games and a private guest suite. The building is secured with the help of monitored entrances controlled by round the clock concierge services and a well-lit parking lot which is monitored by video.
Whether it's the gastronomic delights of Gaslamp Quarter or Little Italy, shopping at the Horton Plaza, the Marina and the Bay or the Padres' Ballpark, The Pinnacle is centrally located with easy access to all other districts and even the international airport.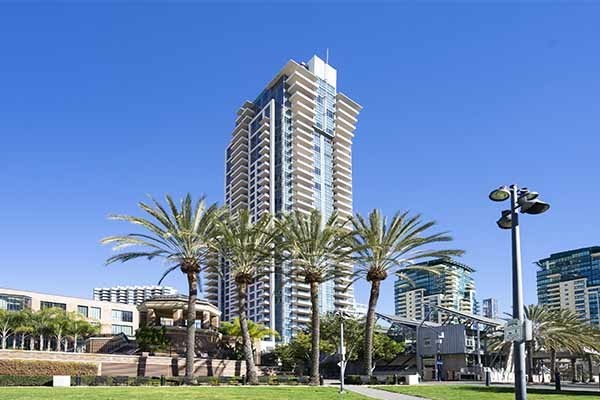 Pinnacle - Condos & Lofts For Sale:
#1903
Price:


$1,325,000

Beds:
2
Baths:
2
Sq.Ft.:
1,290
Community:
Marina
Listed:
11/04/2023
MLS#:
230021791
Office Info:
Pacific Sotheby's Int'l Realty
#2305
Price:


$2,649,000

Beds:
2
Baths:
2
Sq.Ft.:
1,913
Community:
Marina
Listed:
11/16/2023
MLS#:
230022526
Office Info:
Desert Sotheby's Intl Realty
#3004 & 3001
Price:


$5,200,000

Beds:
3 (2 den)
Baths:
4
Sq.Ft.:
4,335
Community:
Marina
Listed:
05/13/2023
MLS#:
230008935
Office Info:
Pacific Sotheby's Int'l Realty
Pinnacle - Recent Closings / Sales
| Closed | Unit# | Sale price | Bed | Bath | Sqft | Price/SqFT |
| --- | --- | --- | --- | --- | --- | --- |
| 10/13/2023 | #1101 | $2,060,000 | 2 | 2 | 1,675 | 1230 |
| 10/12/2023 | #605 | $989,000 | 2 | 2 | 1,297 | 763 |
| 10/05/2023 | #908 | $1,675,000 | 2 | 2 | 1,509 | 1110 |
| 08/10/2023 | #1006 | $840,000 | 2 | 2 | 1,012 | 830 |
| 06/22/2023 | #2102 | $845,750 | 2 | 2 | 1,045 | 809 |
| 05/23/2023 | #1504 | $1,585,000 | 2+ | 2 | 1,596 | 993 |
| 05/09/2023 | #3102 | $2,500,000 | 3+ | 2 | 1,999 | 1251 |
| 12/13/2022 | #406 | $770,000 | 2 | 2 | 1,012 | 761 |
| 11/01/2022 | #1305 | $1,750,000 | 2+ | 2 | 1,596 | 1096 |
| 10/25/2022 | #904 | $1,235,000 | 2 | 2 | 1,297 | 952 |
| 10/20/2022 | #401 | $1,250,000 | 2 | 2 | 1,509 | 828 |
| 08/24/2022 | #1301 | $1,935,000 | 2 | 2 | 1,676 | 1155 |
| 08/23/2022 | #408 | $1,450,000 | 2 | 2 | 1,380 | 1051 |
| 08/03/2022 | #503 | $820,000 | 2 | 2 | 1,022 | 802 |
| 08/01/2022 | #703 | $815,000 | 2 | 2 | 1,012 | 805 |
Pinnacle - All Closings / Sales History
Pinnacle - Available Rentals
#1002
Price:


$3,200

Beds:
1
Baths:
1
Sq.Ft.:
669
Community:
Marina
Listed:
10/24/2023
MLS#:
306044379
Office Info:
Pinnacle Estate Properties
#907
Price:


$3,500

Beds:
1
Baths:
1
Sq.Ft.:
669
Community:
Marina
Listed:
09/08/2023
MLS#:
230017630
Office Info:
RE/MAX City Real Estate
Pinnacle - Recently Rented
| Closed | Unit# | Sale price | Bed | Bath | Sqft | Price/SqFT |
| --- | --- | --- | --- | --- | --- | --- |
| 08/14/2023 | #402 | $3,200 | 1 | 1 | 737 | 4 |
| 11/14/2022 | #507 | $3,400 | 1 | 1 | 669 | 5 |
| 08/15/2022 | #2504 | $5,750 | 2 | 2 | 1,294 | 4 |
| 07/28/2022 | #1404 | $5,500 | 2+ | 2 | 1,596 | 3 |
| 07/20/2022 | #907 | $3,500 | 1 | 1 | 669 | 5 |
| 04/08/2022 | #907 | $4,500 | 1 | 1 | 669 | 7 |
| 02/15/2022 | #506 | $3,500 | 2 | 2 | 1,012 | 3 |
| 02/07/2022 | #706 | $3,800 | 2 | 2 | 1,012 | 4 |
| 01/03/2022 | #2504 | $5,200 | 2 | 2 | 1,294 | 4 |
| 12/11/2021 | #3002 | $5,200 | 3 | 2 | 1,587 | 3 |
| 10/04/2021 | #701 | $4,700 | 2 | 2 | 1,509 | 3 |
| 09/15/2021 | #502 | $3,850 | 1 | 1 | 723 | 5 |
| 02/17/2021 | #2104 | $4,600 | 2 | 2 | 1,294 | 4 |
| 01/07/2021 | #1006 | $3,495 | 2 | 2 | 1,012 | 3 |
| 07/30/2020 | #404 | $3,600 | 2 | 2 | 1,297 | 3 |