Renaissance
Neighborhood: Marina
Address:  645 Front
Year Built:  2003
Stories:  23
Units:  221
Property Management Company:  Renaissance HOA - 619.595.7072
Renaissance is a 23-story tower developed by Lambert Development on a full city block bounded by Market and G, Front and First in the upscale Marina neighborhood of downtown San Diego. The project comprises of two twin towers with 221 condos and 14,000 sq. ft. of retail space built in 2003.
The units are one, two, and three bedroom town homes, lofts, condos and penthouses ranging from 700 to 4,475 square feet in size. Construction of phase I was completed in fall 2002 and Phase II the following spring.
Residences are expansive with high ceilings and many windows to let in natural light and spectacular views of the San Diego Bay. The homes are equipped with pre-wired, fiber-optic connections, granite countertops, high ceilings and premiere quality stainless steel appliances and fixtures.
Renaissance is designed true to its name by architect Carrier Johnson in a contemporary urban style and accords many luxurious amenities to its sophisticated residents. Least of which is a pool for leisure and lap swimming, a spa, fully-equipped exercise room, community facilities and landscaped gardens.
Living in the prestigious Marina neighborhood is a distinctive status and Renaissance residents have the added benefits of being at the heart of a pulsating city's happenings and events. The finest restaurants, shopping, best entertainment, premieres, gallery openings and art exhibitions and the wide breathtaking sea are at your doorstep at Renaissance.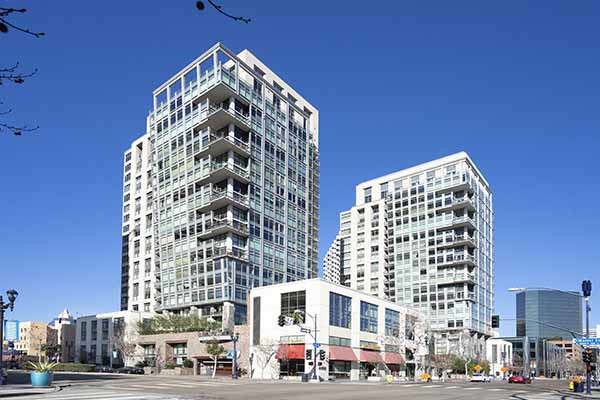 Renaissance - Condos & Lofts For Sale:
Renaissance - Recent Closings / Sales
| Closed | Unit# | Sale price | Bed | Bath | Sqft | Price/SqFT |
| --- | --- | --- | --- | --- | --- | --- |
| 10/05/2023 | #104 | $1,150,000 | 3 | 3 | 1,984 | 580 |
| 08/07/2023 | #812 | $931,270 | 2 | 2 | 1,295 | 719 |
| 08/01/2023 | #316 | $1,350,000 | 3 | 3 | 1,990 | 678 |
| 06/26/2023 | #712 | $875,000 | 2 | 2 | 1,295 | 676 |
| 05/18/2023 | #1704 | $923,888 | 2 | 2 | 1,259 | 734 |
| 04/24/2023 | #604 | $830,000 | 2 | 2 | 1,237 | 671 |
| 04/18/2023 | #612 | $849,000 | 2 | 2 | 1,295 | 656 |
| 04/03/2023 | #1104 | $855,000 | 2 | 2 | 1,237 | 691 |
| 03/20/2023 | #1810 | $940,000 | 2 | 2 | 1,259 | 747 |
| 11/30/2022 | #1809 | $1,199,000 | 2 | 2 | 1,713 | 700 |
| 08/29/2022 | #1808 | $1,650,000 | 3 | 2 | 1,747 | 944 |
| 08/02/2022 | #1215 | $1,399,900 | 3 | 3 | 1,753 | 799 |
| 07/22/2022 | #910 | $975,000 | 2 | 2 | 1,237 | 788 |
| 06/24/2022 | #1012 | $1,140,000 | 2 | 2 | 1,295 | 880 |
| 06/22/2022 | #1312 | $1,200,000 | 2 | 2 | 1,281 | 937 |
Renaissance - All Closings / Sales History
Renaissance - Available Rentals
#710
Price:


$4,200

Beds:
2
Baths:
2
Sq.Ft.:
1,237
Community:
Marina
Listed:
10/04/2023
MLS#:
230019836
Office Info:
Berkshire Hathaway HomeServices California Properties
Renaissance - Recently Rented
| Closed | Unit# | Sale price | Bed | Bath | Sqft | Price/SqFT |
| --- | --- | --- | --- | --- | --- | --- |
| 09/05/2023 | #712 | $4,900 | 2 | 2 | 1,295 | 4 |
| 03/01/2023 | #2204 | $20,000 | 3 | 3 | 4,455 | 4 |
| 01/25/2023 | #710 | $4,300 | 2 | 2 | 1,237 | 3 |
| 01/20/2023 | #311 | $6,500 | 3 | 3 | 1,900 | 3 |
| 01/18/2023 | #1203 | $2,750 | 1 | 1 | 888 | 3 |
| 11/28/2022 | #910 | $4,000 | 2 | 2 | 1,237 | 3 |
| 07/01/2022 | #1711 | $3,975 | 2 | 2 | 1,300 | 3 |
| 06/06/2022 | #1208 | $3,900 | 1 | 1 | 1,158 | 3 |
| 04/08/2022 | #1207 | $5,590 | 3 | 3 | 1,753 | 3 |
| 02/23/2022 | #1203 | $2,750 | 1 | 1 | 888 | 3 |
| 07/28/2021 | #2201 | $16,000 | 4 | 5 | 4,391 | 4 |
| 04/02/2021 | #2204 | $18,000 | 3 | 3 | 4,455 | 4 |
| 02/09/2021 | #808 | $4,100 | 3 | 2 | 1,753 | 2 |
| 01/14/2021 | #803 | $3,600 | 2 | 2 | 1,700 | 2 |
| 01/13/2021 | #1907 | $3,700 | 2 | 2 | 1,395 | 3 |