Rowhomes on F
Neighborhood: East Village
Address:  825 10th
Year Built:  2002
Stories:  3
Units:  17
Property Management Company:  Self Managed
Rowhomes on F are located at 1008 through 1088 F Street, and house 17 single family two bedrooms with den about 1491-1851 square feet in size. Located in the East Village neighborhood of downtown San Diego, the concrete construction was completed by in February 2002.
Each home has unique urban industrial loft style features such as exposed concrete interior walls, high ceilings, 14-feet tall bay windows in a clear aluminum anodized finish, maple hardwood floors, sandblasted glass balustrades, stainless steel accents on cabinetry and stair risers, and electrical cover plates and a private rooftop deck.
The 3-story homes are designed so that the ground floor could be used as an office or a bedroom. The second floor consists of the kitchen, dining room, living room and a powder room and bedrooms are located on the third floor to open up to spectacular views.
The natural concrete construction is finished in vibrant colors including red, purple, olive, and ochre on the exterior. The complex is developed around a landscaped one-way driving court. The garages have 17 parking spaces in total and the complex accords other public utilities.
The East Village neighborhood, often referred to as the 'Soho of the West' is an idyllic setting for this unique complex. Rowhomes on F provide an opportunity for zero-time commute as they were conceived as live/work units. There are four businesses on-site; A private art gallery, two architecture firms, and a real-estate economist's office.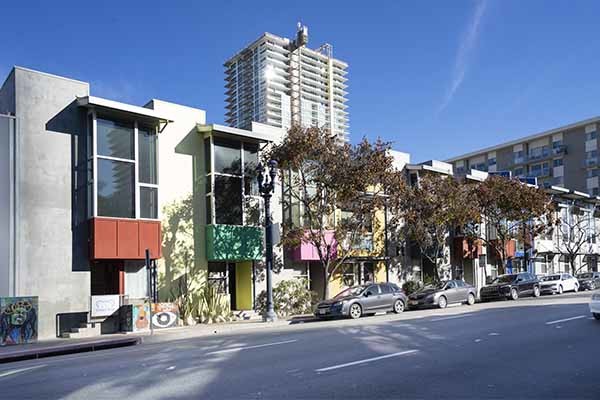 Rowhomes On F - Condos & Lofts For Sale:
Rowhomes On F - Recent Closings / Sales
| Closed | Unit# | Sale price | Bed | Bath | Sqft | Price/SqFT |
| --- | --- | --- | --- | --- | --- | --- |
| 10/29/2021 | # | $1,300,000 | 2 | 2 | 1,748 | 744 |
| 10/27/2021 | # | $805,000 | 2 | 2 | 1,748 | 461 |
| 03/16/2020 | # | $799,000 | 2 | 2 | 1,748 | 457 |
| 10/17/2019 | # | $820,000 | 2 | 2 | 1,748 | 469 |
| 02/15/2015 | # | $700,000 | 2 | 2 | 1,748 | 400 |
| 12/17/2014 | # | $642,500 | 2 | 2 | 1,748 | 368 |
| 09/16/2014 | # | $1,765,000 | 2 | 2 | 1,748 | 1010 |
| 06/12/2013 | #A | $1,888,000 | 2 | 2 | 3,586 | 526 |
Rowhomes On F - All Closings / Sales History
Rowhomes On F - Available Rentals
Rowhomes On F - Recently Rented
| Closed | Unit# | Sale price | Bed | Bath | Sqft | Price/SqFT |
| --- | --- | --- | --- | --- | --- | --- |
| 06/29/2020 | # | $4,000 | 2 | 2 | 1,748 | 2 |
| 04/11/2017 | # | $2,995 | 2 | 2 | 1,748 | 2 |
| 07/01/2013 | #A-B | $2,850 | 1 | 2 | 1,891 | 2 |