Samuel Fox Lofts
Neighborhood: Gaslamp
Address:  950 6th
Year Built:  1929
Stories:  6
Units:  23
Property Management Company:  Castle Breckenridge - 619.697.3191
Located in the Gaslamp Quarter on the southwest corner of 6th and Broadway is Samuel Fox Lofts. Developed by the Los Angeles-based Champion Development Group, the complex features 23 live/work loft units ranging from 770 to 1,450 square feet in size and a penthouse.
Samuel Fox Lofts is a renovation of a 6-story, 56,000 sq. ft. building which was originally Samuel fox's "Lion Clothing Company" back in 1929. It was designed by renowned architect William Templeton Johnson, FAIA who shaped San Diego during the early 20th century. The building houses 4,872 square feet of commercial office space in and 7,300 square feet of street level retail.
The Lofts feature soaring 15 feet high ceilings and polished concrete floors enhanced by colored roofs and dramatic contemporary lighting. Floor to ceiling windows let in plenty of natural light. Comfortable walk-in closets, air conditioning and secured underground parking are but of course included.
Kitchens have Kohler stainless steel apron front sink, Custom maple cabinetry, granite slab countertops, entertainment bars and stainless steel GE appliances including a Gas range, Dishwasher, Refrigerator with bottom freezer and a microwave.
The residence bathrooms are picture perfect featuring dual free-standing designer bowl sinks, granite slab countertops, natural stone full height tub shower surrounds, 6 foot soaking tub and separate shower and bath in some select units.
The reinforced concrete and steel exterior is in a typical Spanish revival architectural style with gargoyles and detailed features on the facade including cast iron decorative grillage, terra cotta sculpted spandrel between the 3rd and 4th floors and decorative stenciled frescos on the eaves overhanging the vertical walls from the roof highlighted by exterior lights.
The restorers have kept the original details of the historical building intact and included modern day amenities such as a rooftop patio with a barbeque area offering dramatic views of downtown San Diego.
Samuel Fox Lofts in San Diego are located at walking distance to shops at Horton Plaza and San Diego's finest restaurants and the Padres home, Petco Park. The building is also close to the Financial District making the lofts ideal live/work spaces for small businesses, start-ups and NGO's.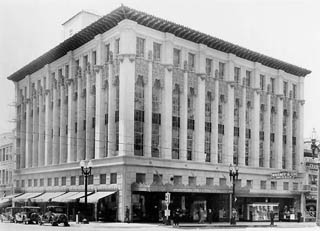 Samuel Fox Lofts - Condos & Lofts For Sale:
Samuel Fox Lofts - Recent Closings / Sales
| Closed | Unit# | Sale price | Bed | Bath | Sqft | Price/SqFT |
| --- | --- | --- | --- | --- | --- | --- |
| 04/22/2022 | #211 | $690,000 | 0 | 1 | 1,993 | 346 |
| 03/25/2022 | #323 | $665,000 | 0 | 1 | 1,222 | 544 |
| 03/04/2022 | #436 | $484,000 | 0 | 1 | 770 | 629 |
| 01/18/2022 | #542 | $690,000 | 1 | 1 | 1,435 | 481 |
| 12/30/2021 | #321 | $600,000 | 0 | 1 | 1,212 | 495 |
| 07/23/2021 | #432 | $1,050,000 | 2 | 2 | 2,680 | 392 |
| 08/23/2019 | #431 | $550,000 | 0 | 1 | 1,211 | 454 |
| 02/01/2019 | #437 | $472,500 | 1 | 1 | 1,218 | 388 |
| 11/02/2018 | #544 | $435,000 | 0 | 1 | 1,090 | 399 |
| 12/29/2017 | #435 | $499,000 | 0 | 1 | 1,015 | 492 |
| 07/24/2017 | #547 | $385,000 | 0 | 1 | 822 | 468 |
| 08/21/2016 | #542 | $567,500 | 1 | 1 | 1,435 | 395 |
| 06/30/2016 | #541 | $465,000 | 0 | 1 | 1,200 | 388 |
| 03/12/2014 | #436 | $350,000 | 0 | 1 | 770 | 455 |
| 10/08/2013 | #211 | $460,000 | 0 | 1 | 1,993 | 231 |
Samuel Fox Lofts - All Closings / Sales History
Samuel Fox Lofts - Available Rentals
Samuel Fox Lofts - Recently Rented
| Closed | Unit# | Sale price | Bed | Bath | Sqft | Price/SqFT |
| --- | --- | --- | --- | --- | --- | --- |
| 02/01/2022 | #542 | $3,200 | 1 | 1 | 1,435 | 2 |
| 10/21/2019 | #211 | $2,500 | 0 | 1 | 1,993 | 1 |
| 01/24/2019 | #323 | $2,700 | 0 | 1 | 1,222 | 2 |
| 06/04/2018 | #323 | $2,700 | 0 | 1 | 1,222 | 2 |
| 09/01/2015 | #611 | $2,895 | 0 | 1 | 985 | 3 |
| 08/20/2015 | #541 | $2,300 | 0 | 1 | 1,200 | 2 |
| 10/13/2014 | #324 | $2,100 | 0 | 1 | 1,134 | 2 |
| 06/02/2014 | #541 | $2,100 | 0 | 1 | 1,200 | 2 |