Seven on Kettner
Neighborhood: Columbia
Address:  702-714 Kettner
Year Built:  1990
Stories:  3
Units:  7
Property Management Company:  APS - 619.299.6899
7 on Kettner is a 3-story 7 condo community located at 702-714 Kettner Boulevard in the Columbia district. Completed in February 1990, this was award winning architect Jonathan Segal's first downtown San Diego project. Segal was both the architect as well as the developer for this project for which he won that years Orchid Award.
The row houses are built in wood frame with roof canopies on a triangular lot over a concrete garage. The balconies offer panoramic downtown San Diego views through the sweet gum trees on the sidewalk which turn scarlet red in winter.
Most of the seven row homes share the rear facade with the trolley tracks but the noise is kept out by the dual-glazed windows and extra-thick insulated walls framed with 2 x 6s covered inside with double drywall over resilient steel. Two of the largest units feature operable skylights to let in natural light and ventilation.
A trolley stop literally right in your backyard has its advantages when it comes to easy transportation to Seaport Village, convention center, the waterfront and other downtown San Diego neighborhoods.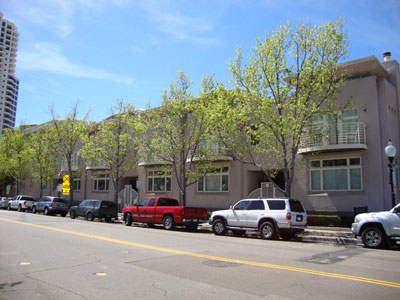 Seven on Kettner - Condos & Lofts For Sale:
Seven on Kettner - Recent Closings / Sales
| Closed | Unit# | Sale price | Bed | Bath | Sqft | Price/SqFT |
| --- | --- | --- | --- | --- | --- | --- |
| 07/28/2021 | # | $779,000 | 3 | 2 | 3,060 | 255 |
| 02/27/2017 | # | $760,000 | 3 | 2 | 3,060 | 248 |
| 11/25/2014 | # | $750,000 | 3 | 2 | 3,060 | 245 |
Seven on Kettner - All Closings / Sales History
Seven on Kettner - Available Rentals
Seven on Kettner - Recently Rented
| Closed | Unit# | Sale price | Bed | Bath | Sqft | Price/SqFT |
| --- | --- | --- | --- | --- | --- | --- |
| 04/19/2019 | # | $6,200 | 3 | 2 | 3,060 | 2 |
| 12/21/2016 | # | $4,800 | 3 | 2 | 3,060 | 2 |