Symphony Terrace
Neighborhood: Cortez Hill
Address:  1333 8th
Year Built:  1981
Stories:  9
Units:  56
Property Management Company:  Hilltop Community Executives 619.295.8711
Symphony Terrace is a 9-story building located at 1,333 8th Street in downtown San Diego's Cortez Hill neighborhood. The complex houses 1, 2 and 3 bedroom condos totaling 56 downtown San Diego condos, each ranging from 673 -1,348 square feet in size. This is a 1981 development.
Symphony Terrace residences are tastefully done up and all units have a private patio or balcony. Most of the upper homes have lofts and the building has been upgraded to include modern amenities. Each home offers great downtown views. The complex amenities include a guest suite, pool, two excersize rooms, spa, steam bath, sauna and BBQ area. 65 underground spaces are provided for parking.
The building is located at the foot of Cortez Hill opposite Symphony Hall and Sheraton Hotel. Public transportation, trolley rides and freeway access make getting around very easy. Additionally the complex is located only a short walk away from Balboa Park.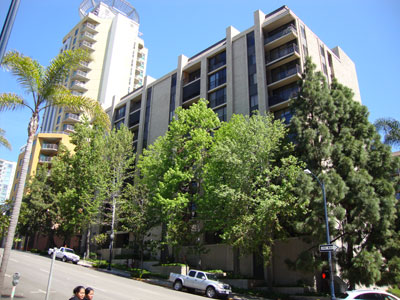 Symphony Terrace - Condos & Lofts For Sale:
Symphony Terrace - Recent Closings / Sales
| Closed | Unit# | Sale price | Bed | Bath | Sqft | Price/SqFT |
| --- | --- | --- | --- | --- | --- | --- |
| 03/17/2023 | #307 | $475,000 | 1 | 1 | 673 | 706 |
| 12/12/2022 | #805 | $575,000 | 2 | 2 | 1,143 | 503 |
| 09/30/2022 | #304 | $405,000 | 1 | 1 | 673 | 602 |
| 09/27/2021 | #905 | $550,000 | 1+ | 1 | 1,143 | 481 |
| 09/20/2021 | #103 | $500,000 | 2 | 2 | 1,143 | 437 |
| 08/19/2021 | #506 | $395,000 | 1 | 1 | 673 | 587 |
| 06/28/2021 | #604 | $614,000 | 3 | 2 | 1,384 | 444 |
| 12/11/2020 | #605 | $534,900 | 2 | 2 | 1,143 | 468 |
| 10/06/2020 | #701 | $537,500 | 3 | 2 | 1,384 | 388 |
| 10/05/2020 | #206 | $303,000 | 1 | 1 | 673 | 450 |
| 08/11/2020 | #603 | $518,000 | 2 | 2 | 1,143 | 453 |
| 07/15/2020 | #204 | $307,500 | 1 | 1 | 673 | 457 |
| 08/15/2019 | #101 | $339,000 | 1 | 1 | 673 | 504 |
| 05/13/2019 | #704 | $545,000 | 2+ | 2 | 1,384 | 394 |
| 05/01/2019 | #507 | $358,500 | 1 | 1 | 673 | 533 |
Symphony Terrace - All Closings / Sales History
Symphony Terrace - Available Rentals
Symphony Terrace - Recently Rented
| Closed | Unit# | Sale price | Bed | Bath | Sqft | Price/SqFT |
| --- | --- | --- | --- | --- | --- | --- |
| 09/21/2020 | #202 | $2,000 | 1 | 1 | 700 | 3 |
| 03/04/2020 | #701 | $2,850 | 3 | 2 | 1,384 | 2 |
| 06/30/2018 | #529 | $1,900 | 1 | 1 | 673 | 3 |
| 06/18/2018 | #501 | $1,900 | 1 | 1 | 673 | 3 |
| 03/22/2018 | #402 | $1,650 | 1 | 1 | 673 | 2 |
| 03/17/2018 | #404 | $1,675 | 1 | 1 | 673 | 2 |
| 04/17/2017 | #701 | $2,350 | 3 | 2 | 1,384 | 2 |
| 04/11/2016 | #405 | $2,300 | 2 | 2 | 1,143 | 2 |