The Legend
Neighborhood: East Village
Address:  325 7th
Year Built:  2007
Stories:  23
Units:  178
Property Management Company:  The Prescott Companies - 619.501.0978
The Legend is a 23-story building located in the East Village neighborhood of Downtown San Diego. BOSA Developers' 2007 development is directly north of the Petco Park and consists of 170 luxury condos, 8 townhomes and 31,000 sq. ft. of retail space. Residences are available as 1 bedroom, 1+den, 2 bedrooms and 2+den condos of 800-2,500 sq. ft. area.
Homes at The Legend offer incredible views of the San Diego waterfront, the San Gabriel Mountains and the downtown skyline. The 2nd floor rooftop deck overlooks Petco Park. Residents at The Legend have access to a pool, spa, fitness center, rooftop garden and BBQ area, steam & sauna and locker rooms. A 7th floor social lounge, also overlooking the Park, opens out to a large 3200sqft rooftop deck equipped with an outdoor fireplace and BBQ areas.  You can watch the whole Padre game from here.
Living in downtown San Diego's East Village neighborhood confers upon you a unique lifestyle. This is the SoHo of the West Coast, home to artists, writers and musicians.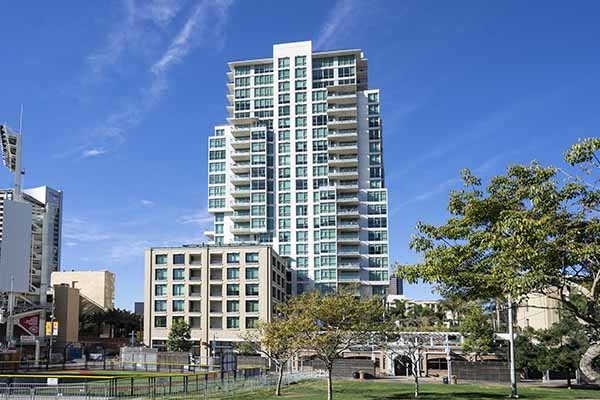 The Legend - Condos & Lofts For Sale:
The Legend - Recent Closings / Sales
| Closed | Unit# | Sale price | Bed | Bath | Sqft | Price/SqFT |
| --- | --- | --- | --- | --- | --- | --- |
| 05/02/2023 | #1808 | $917,500 | 2 | 2 | 1,203 | 763 |
| 04/17/2023 | #2101 | $1,183,000 | 2+ | 2 | 1,587 | 745 |
| 02/21/2023 | #1701 | $800,000 | 2 | 2 | 1,138 | 703 |
| 02/01/2023 | #1602 | $925,000 | 2 | 2 | 935 | 989 |
| 08/25/2022 | #503 | $600,000 | 1 | 1 | 730 | 822 |
| 07/25/2022 | #902 | $879,000 | 2 | 2 | 973 | 903 |
| 07/21/2022 | #204 | $840,000 | 2 | 2 | 991 | 848 |
| 06/03/2022 | #1306 | $820,000 | 2 | 2 | 973 | 843 |
| 05/19/2022 | #707 | $812,000 | 2 | 2 | 1,021 | 795 |
| 05/09/2022 | #1604 | $1,130,000 | 2 | 2 | 1,091 | 1036 |
| 04/15/2022 | #510 | $725,000 | 2 | 2 | 853 | 850 |
| 04/14/2022 | #1406 | $855,000 | 2 | 2 | 887 | 964 |
| 04/08/2022 | #203 | $800,000 | 2 | 2 | 1,096 | 730 |
| 03/22/2022 | #806 | $800,000 | 2 | 2 | 972 | 823 |
| 03/10/2022 | #1905 | $939,000 | 2 | 2 | 935 | 1004 |
The Legend - All Closings / Sales History
The Legend - Available Rentals
The Legend - Recently Rented
| Closed | Unit# | Sale price | Bed | Bath | Sqft | Price/SqFT |
| --- | --- | --- | --- | --- | --- | --- |
| 04/08/2023 | #502 | $3,400 | 2 | 2 | 888 | 4 |
| 03/13/2023 | #1604 | $4,995 | 2 | 2 | 1,091 | 5 |
| 03/01/2023 | #808 | $4,395 | 2 | 2 | 1,021 | 4 |
| 01/31/2023 | #1606 | $3,695 | 2 | 2 | 973 | 4 |
| 07/25/2022 | #906 | $3,400 | 2 | 2 | 973 | 3 |
| 06/03/2022 | #2003 | $8,500 | 2 | 2 | 1,483 | 6 |
| 02/23/2022 | #1505 | $3,800 | 1 | 2 | 1,118 | 3 |
| 10/13/2021 | #903 | $3,400 | 2 | 2 | 935 | 4 |
| 10/01/2021 | #1402 | $4,000 | 2 | 2 | 853 | 5 |
| 08/01/2021 | #1807 | $3,400 | 2 | 2 | 973 | 3 |
| 06/19/2021 | #403 | $2,400 | 1 | 1 | 807 | 3 |
| 06/17/2021 | #1404 | $4,500 | 2 | 2 | 1,200 | 4 |
| 04/01/2021 | #903 | $3,900 | 2 | 2 | 935 | 4 |
| 01/22/2021 | #806 | $2,995 | 2 | 2 | 972 | 3 |
| 01/11/2021 | #1707 | $3,300 | 2 | 2 | 927 | 4 |