The Mark
Neighborhood: East Village
Address:  800 Mark Ln
Year Built:  2007
Stories:  33
Units:  244
Property Management Company:  The Mark HOA 619.696.9260
The Mark was completed by Douglas Wilson Companies in summer 2007 and as such is a new development in downtown San Diego. The 32 - story glass building located on the block bounded by 8th, 9th, Market & Island in the Ballpark District comprises of 244 San Diego downtown real estate condos and townhomes and 10,000 square feet of retail space. Units are available as 1, 2, 3 bedrooms and penthouse suites.
The Mark residences are refined and take in ceramic entries, floor to ceiling windows, and European cabinetry and granite countertops apart from other luxury features. Most homes offer some of the most remarkable views available of the San Diego Bay or City.
The Mark presents upscale amenities including a fully equipped fitness center, rooftop lounge and outdoor spa, mini storage units, four full-service elevators for convenience and an electronically secured subterranean parking area. The complex has an onsite San Diego trolley stop and direct access to public bus stops. The freeway and the San Diego International Airport are within easy reach.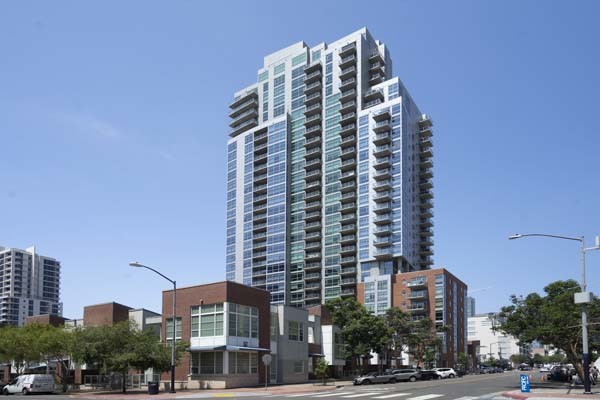 The Mark - Condos & Lofts For Sale:
#1007
Price:


$649,000

Beds:
1
Baths:
1
Sq.Ft.:
739
Community:
East Village
Listed:
07/04/2023
MLS#:
230012788
Office Info:
Douglas Elliman of California
#2501
Price:


$1,395,000

Beds:
2
Baths:
2
Sq.Ft.:
1,321
Community:
East Village
Listed:
07/20/2023
MLS#:
230014024
Office Info:
Pacific Sotheby's Int'l Realty
#3102
Price:


$1,795,000

Beds:
2 (1 den)
Baths:
2
Sq.Ft.:
1,878
Community:
East Village
Listed:
07/12/2023
MLS#:
230013367
Office Info:
Keller Williams La Jolla
The Mark - Recent Closings / Sales
| Closed | Unit# | Sale price | Bed | Bath | Sqft | Price/SqFT |
| --- | --- | --- | --- | --- | --- | --- |
| 04/27/2023 | #1504 | $720,000 | 1 | 1 | 905 | 796 |
| 04/03/2023 | #2705 | $1,525,000 | 2 | 2 | 1,524 | 1001 |
| 03/27/2023 | #2002 | $700,000 | 1 | 1 | 903 | 775 |
| 03/13/2023 | #508 | $600,000 | 1 | 1 | 739 | 812 |
| 03/03/2023 | #TH112 | $1,100,000 | 2 | 2 | 1,734 | 634 |
| 02/01/2023 | #409 | $571,700 | 1 | 1 | 778 | 735 |
| 01/31/2023 | #2105 | $1,050,000 | 2 | 2 | 1,133 | 927 |
| 01/17/2023 | #509 | $675,000 | 1 | 1 | 875 | 771 |
| 12/22/2022 | #2306 | $950,000 | 1 | 1 | 1,054 | 901 |
| 11/15/2022 | #210 | $680,500 | 1 | 1 | 967 | 704 |
| 08/17/2022 | #2205 | $1,150,000 | 2 | 2 | 1,133 | 1015 |
| 08/16/2022 | #806 | $1,010,000 | 2 | 2 | 1,467 | 688 |
| 07/11/2022 | #507 | $790,000 | 2 | 2 | 1,228 | 643 |
| 05/25/2022 | #901 | $1,050,000 | 2 | 2 | 1,324 | 793 |
| 05/13/2022 | #1503 | $685,000 | 1 | 1 | 878 | 780 |
The Mark - All Closings / Sales History
The Mark - Available Rentals
The Mark - Recently Rented
| Closed | Unit# | Sale price | Bed | Bath | Sqft | Price/SqFT |
| --- | --- | --- | --- | --- | --- | --- |
| 04/26/2023 | #803 | $3,500 | 1 | 1 | 878 | 4 |
| 04/06/2023 | #1408 | $3,500 | 1 | 1 | 875 | 4 |
| 03/22/2023 | #2401 | $4,500 | 2 | 2 | 1,321 | 3 |
| 12/09/2022 | #2501 | $5,300 | 2 | 2 | 1,321 | 4 |
| 11/25/2022 | #1706 | $3,750 | 1 | 1 | 1,051 | 4 |
| 10/17/2022 | #2301 | $4,500 | 2 | 2 | 1,321 | 3 |
| 09/10/2022 | #403 | $2,700 | 1 | 1 | 878 | 3 |
| 07/22/2022 | #1806 | $3,650 | 1+ | 1 | 1,051 | 3 |
| 07/15/2022 | #202 | $3,250 | 1 | 1 | 988 | 3 |
| 04/25/2022 | #1006 | $2,950 | 1 | 1 | 760 | 4 |
| 04/13/2022 | #3101 | $7,570 | 2 | 2 | 2,011 | 4 |
| 03/15/2022 | #2501 | $5,300 | 2 | 2 | 1,321 | 4 |
| 02/01/2022 | #2203 | $3,200 | 1 | 1 | 878 | 4 |
| 01/04/2022 | #1109 | $3,950 | 2 | 2 | 1,240 | 3 |
| 11/13/2021 | #702 | $2,750 | 1 | 1 | 902 | 3 |