The Metropolitan
Neighborhood: East Village
Address:  165 6th
Year Built:  2004
Stories:  32
Units:  36
Property Management Company:  Prescott - 619.230.1892
The Metropolitan is an interesting community. It comprises of 36 urban condominiums on floors 22-32 above the Omni San Diego Hotel built in 2004. Interestingly, The Metropolitan has a pedestrian sky bridge linking to the Petco Park. This makes sense when you consider that both the Park and the hotel are built by the same builder; JMI Inc.
All 36 residences are considered as penthouses although they vary between 2 and 3 bedrooms about 1,587-2,444 sq. ft. in size. Every home features 10 foot high ceilings, hardwood and maple floors, and luxury carpet in the bedrooms. Every living room leads to a terrace or balcony and some units having an additional balcony in the Master bedroom to take in the city and bay views.
The Metropolitan residents get a two world advantage: the hotel amenities and an excellent, well appointed home. A private elevator entrance is available for owners only. Hotel amenities such as dry-cleaning and laundry, housekeeping, concierge services, room service including in-house dining and catering, valet parking, 24-hour security and front desk operation and access to the excellent fully equipped fitness center are at the homeowners disposal.  The Metropolitan residences also have their own private roof-top pool to enjoy.
The Metropolitan is located in San Diego's East Village neighborhood within walking distance of many San Diego landmarks including the Zoo and Balboa Park and the International Airport. And of course you will be almost staying over the Padres ballpark. Be it shopping or entertainment, recreation or fine dining, the proximity of The Metropolitan to other downtown San Diego neighborhoods and the bay gives you a lifestyle like no other.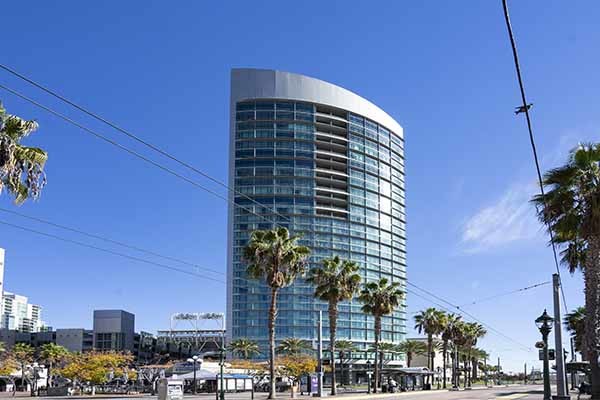 The Metropolitan - Condos & Lofts For Sale:
The Metropolitan - Recent Closings / Sales
| Closed | Unit# | Sale price | Bed | Bath | Sqft | Price/SqFT |
| --- | --- | --- | --- | --- | --- | --- |
| 03/02/2022 | #2704 | $3,400,000 | 3 | 3 | 2,466 | 1379 |
| 12/07/2021 | #2703 | $2,160,000 | 2 | 2 | 2,058 | 1050 |
| 05/25/2021 | #2604 | $2,675,000 | 3 | 3 | 2,466 | 1085 |
| 03/15/2021 | #2203 | $1,825,000 | 2 | 2 | 1,880 | 971 |
| 12/29/2020 | #2602 | $3,730,000 | 3+ | 3 | 4,049 | 921 |
| 12/15/2020 | #2804 | $3,250,000 | 3+ | 2 | 3,138 | 1036 |
| 12/17/2019 | #2402 | $1,450,000 | 3 | 3 | 1,991 | 728 |
| 02/11/2019 | #2701 | $1,385,000 | 2 | 2 | 1,584 | 874 |
| 01/07/2019 | #2203 | $1,785,000 | 2 | 2 | 1,880 | 949 |
| 04/30/2018 | #2502 | $2,050,000 | 2+ | 3 | 1,991 | 1030 |
| 05/31/2017 | #2704 | $2,500,000 | 3 | 3 | 2,466 | 1014 |
| 02/24/2017 | #2401 | $1,360,000 | 2 | 2 | 1,584 | 859 |
| 09/30/2016 | #2204 & 2201 | $4,000,000 | 3 | 4 | 4,001 | 1000 |
| 09/21/2016 | #2502 | $1,560,000 | 2+ | 3 | 1,991 | 784 |
| 05/17/2016 | #3101 | $4,650,000 | 3+ | 4 | 8,853 | 525 |
The Metropolitan - All Closings / Sales History
The Metropolitan - Available Rentals
The Metropolitan - Recently Rented
| Closed | Unit# | Sale price | Bed | Bath | Sqft | Price/SqFT |
| --- | --- | --- | --- | --- | --- | --- |
| 02/24/2022 | #2301 | $7,250 | 2 | 2 | 1,600 | 5 |
| 08/24/2021 | #2301 | $7,000 | 2 | 2 | 1,600 | 4 |
| 07/02/2021 | #2301 | $6,500 | 2 | 2 | 1,600 | 4 |
| 05/01/2020 | #2301 | $6,500 | 2 | 2 | 1,600 | 4 |
| 10/23/2019 | #2803 | $6,800 | 3 | 2 | 2,058 | 3 |
| 07/30/2018 | #2301 | $6,500 | 2 | 2 | 1,600 | 4 |
| 11/25/2013 | #2301 | $6,500 | 2 | 2 | 1,600 | 4 |