The Park Avenue
Neighborhood: Cortez Hill
Address:  1640 10th
Year Built:  1983
Stories:  4
Units:  32
Property Management Company:  Hudson Management Services 858.514.8820
Neighborhood: Cortez Hill
The Park Avenue is a 4-story building located at 1640, 10th avenue and Cedar Street. This downtown San Diego low-rise houses 32 luxury condominiums as two bedrooms and dual master suite units on Cortez Hill. Residences range from 1,131 to 1,376 square feet in size. Park Avenue is one of the older downtown developments built in 1983.
The Park Avenue is built in a stucco exterior with residences overlooking the city and the park. Recent renovation of the building included a fresh new lobby and new hallways. Residences at The Park Avenue are quite spacious with fireplaces in the living rooms, dishwasher, oven and refrigerator in the kitchens and a washer/dryer. Most residences have extra spaces in the form of a patio or balcony.
This downtown San Diego real estate community is gated with a fenced yard provides amenities such as a spa, secure underground parking, a cul-de-sac and sprinkler system. Park on the 10th is on a very nice location close to the freeways and just a walk away from Balboa Park.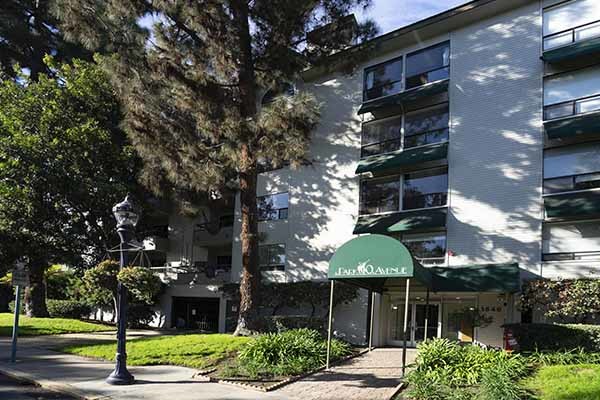 The Park Avenue - Condos & Lofts For Sale:
The Park Avenue - Recent Closings / Sales
| Closed | Unit# | Sale price | Bed | Bath | Sqft | Price/SqFT |
| --- | --- | --- | --- | --- | --- | --- |
| 11/02/2022 | #306 | $775,000 | 2 | 2 | 1,158 | 669 |
| 10/14/2022 | #403 | $761,000 | 2 | 2 | 1,244 | 612 |
| 07/19/2022 | #202 | $630,000 | 2 | 2 | 1,181 | 533 |
| 02/14/2022 | #406 | $610,000 | 2 | 2 | 1,158 | 527 |
| 06/15/2021 | #104 | $575,000 | 2 | 2 | 1,147 | 501 |
| 05/26/2021 | #101 | $565,000 | 2 | 2 | 1,147 | 493 |
| 05/19/2021 | #304 | $555,000 | 2 | 2 | 1,147 | 484 |
| 01/07/2021 | #201 | $497,000 | 2 | 2 | 1,147 | 433 |
| 03/08/2019 | #101 | $510,000 | 2 | 2 | 1,147 | 445 |
| 02/12/2019 | #307 | $437,000 | 2 | 2 | 1,131 | 386 |
| 01/31/2019 | #107 | $485,000 | 2 | 2 | 1,004 | 483 |
| 10/04/2018 | #308 | $508,000 | 2 | 2 | 1,147 | 443 |
| 05/03/2018 | #406 | $498,000 | 2 | 2 | 1,158 | 430 |
| 12/21/2017 | #106 | $469,000 | 2 | 2 | 1,158 | 405 |
| 10/26/2017 | #308 | $503,000 | 2 | 2 | 1,147 | 439 |
The Park Avenue - All Closings / Sales History
The Park Avenue - Available Rentals
The Park Avenue - Recently Rented
| Closed | Unit# | Sale price | Bed | Bath | Sqft | Price/SqFT |
| --- | --- | --- | --- | --- | --- | --- |
| 10/01/2022 | #106 | $3,350 | 2 | 2 | 1,158 | 3 |
| 04/01/2022 | # | $2,345 | 2 | 2 | 1,200 | 2 |
| 04/23/2021 | # | $2,070,000 | 2 | 2 | 1,200 | 1725 |
| 07/13/2020 | # | $3,900 | 2 | 2 | 1,200 | 3 |
| 07/24/2018 | #406 | $2,500 | 2 | 2 | 1,158 | 2 |