Union Square
Neighborhood: East Village
Address:  1480 Broadway
Year Built:  2004
Stories:  7
Units:  262
Property Management Company:  First Service Residential - 888.525.0050
Union Square is located on the block bounded by Broadway, C, 14th and 15th Street in the East Village neighborhood of Downtown San Diego. The 7-story complex is comprised of 3 mid-rise Buildings; 1480 Broadway Building 1 and 2 and 1465 C Street.
The complex houses 262 units including: studio, Lofts, 1, 2, 2 + Loft, and 3 Bedrooms ranging from 630 to 1786 sq. ft. in size. Developed by Western Pacific Housing, the steel frame and wood construction started in February 2002 with a September 2004 completion. Architects Togawa & Smith are a part of the Union Square project team.
Walls are painted in botany beige and have oversized 4-inch white contrasting baseboards with complementing casing. Designer lighting and fixtures create a warm ambience as six panel interior passage doors open into rooms with dual glazed vinyl windows decorated with white vertical window coverings. Sizeable walk-in closets include white painted wood organizers.
Thermostatically controlled individual heating and air conditioning is provided and ceiling fans and overhead lighting are included in all bedrooms. Living rooms and all bedrooms are wired for high-speed DSL and cable and a laundry area is included for a stacked washer and dryer. To minimize sound between floors the builders have made use of Acoustimat II.
Kitchens are designed in a contemporary but practical style with slab granite countertops and backsplash, self-rimming, porcelain-finish steel sink, Moen faucet in brushed-chrome finish, under-cabinet task lighting, a center island, and contemporary laminate cabinetry with brushed-chrome pulls.
Whirlpool appliances in black or white including a gold series slide in gas range and self cleaning oven, built in microwave/hood combination, multi cycle energy star dishwasher are incorporated in the design. Kitchens have even been plumbed for an ice maker.
When you enter the master bathroom contemporary laminate cabinetry with brushed-chrome pulls, a convenient frameless medicine cabinet and an oval tub and shower combination entice you to soak in and read a book or relax in a bubble bath with a glass of fine wine.
Acknowledging the importance of a safe home the exterior walls and floors are fully insulated and automatic fire sprinklers and smoke detectors have been thoughtfully installed in case of emergencies.
When you live in Union Square, your home comes along with a multitude of community amenities. You can take a walk around the lavishly landscaped private grounds with soothing water fountains or entertain guests in the club room which includes a kitchen and lounge area. A fully-equipped fitness center for residents incorporates men and women's changing areas as well as saunas and showers. An indoor spa with spacious deck is ideal for a relaxation.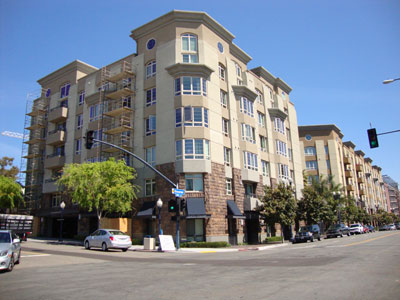 Union Square - Condos & Lofts For Sale:
#2104
Price:


$524,900

Beds:
1
Baths:
1
Sq.Ft.:
913
Community:
East Village
Listed:
10/11/2023
MLS#:
230020084
Office Info:
Berkshire Hathaway HomeServices California Properties
#3507
Price:


$675,000

Beds:
2
Baths:
2
Sq.Ft.:
1,061
Community:
East Village
Listed:
10/18/2023
MLS#:
306038315
Office Info:
Home Solutions Realty
#2427
Price:


$715,000

Beds:
2
Baths:
2
Sq.Ft.:
1,095
Community:
East Village
Listed:
10/20/2023
MLS#:
230020825
Office Info:
eXp Realty of California, Inc.
Union Square - Recent Closings / Sales
| Closed | Unit# | Sale price | Bed | Bath | Sqft | Price/SqFT |
| --- | --- | --- | --- | --- | --- | --- |
| 09/18/2023 | #2210 | $699,000 | 2 | 2 | 1,095 | 638 |
| 08/31/2023 | #2101 | $520,000 | 1 | 1 | 913 | 570 |
| 08/11/2023 | #2320 | $419,900 | 1 | 1 | 617 | 681 |
| 07/24/2023 | #2620 | $510,000 | 1 | 1 | 808 | 631 |
| 05/30/2023 | #3309 | $610,000 | 2 | 2 | 1,013 | 602 |
| 04/17/2023 | #1405 | $686,000 | 3 | 2 | 1,215 | 565 |
| 03/27/2023 | #2313 | $706,000 | 3 | 2 | 1,193 | 592 |
| 03/20/2023 | #3202 | $690,000 | 3 | 2 | 1,249 | 552 |
| 03/02/2023 | #2207 | $440,000 | 1 | 1 | 621 | 709 |
| 02/17/2023 | #1306 | $650,000 | 3 | 2 | 1,131 | 575 |
| 01/27/2023 | #3416 | $420,000 | 1 | 1 | 720 | 583 |
| 01/18/2023 | #2221 | $440,000 | 1 | 1 | 763 | 577 |
| 01/06/2023 | #1304 | $435,000 | 1 | 1 | 712 | 611 |
| 01/03/2023 | #2309 | $410,000 | 1 | 1 | 710 | 577 |
| 12/27/2022 | #3511 | $400,000 | 1 | 1 | 721 | 555 |
Union Square - All Closings / Sales History
Union Square - Available Rentals
#1206
Price:


$3,650

Beds:
3
Baths:
2
Sq.Ft.:
1,131
Community:
East Village
Listed:
10/19/2023
MLS#:
230020729
Office Info:
RE/MAX City Real Estate
Union Square - Recently Rented
| Closed | Unit# | Sale price | Bed | Bath | Sqft | Price/SqFT |
| --- | --- | --- | --- | --- | --- | --- |
| 06/19/2023 | #1305 | $3,500 | 3 | 2 | 1,215 | 3 |
| 03/22/2023 | #1301 | $2,350 | 1 | 1 | 741 | 3 |
| 12/21/2021 | #2611 | $3,000 | 2+ | 2 | 1,290 | 2 |
| 12/02/2021 | #1101 | $2,950 | 2 | 2 | 1,077 | 3 |
| 10/20/2021 | #1206 | $3,500 | 3 | 2 | 1,131 | 3 |
| 10/20/2021 | #3220 | $2,050 | 1 | 1 | 720 | 3 |
| 08/20/2021 | #2613 | $3,700 | 3+ | 2 | 1,500 | 2 |
| 06/26/2021 | #1305 | $3,200 | 3 | 2 | 1,215 | 3 |
| 05/30/2021 | #3402 | $3,295 | 3 | 2 | 1,361 | 2 |
| 05/24/2021 | #3221 | $2,100 | 1 | 1 | 744 | 3 |
| 12/01/2020 | #3220 | $1,900 | 1 | 1 | 720 | 3 |
| 09/03/2020 | #2302 | $2,850 | 3 | 2 | 1,474 | 2 |
| 08/22/2020 | #1205 | $2,450 | 2 | 2 | 1,170 | 2 |
| 06/29/2020 | #2613 | $3,475 | 3+ | 2 | 1,500 | 2 |
| 04/04/2020 | #2611 | $2,500 | 2+ | 2 | 1,290 | 2 |