Discovery
Neighborhood: Cortez Hill
Address:  850 Beech
Year Built:  2002
Stories:  22
Units:  199
Property Management Company:  Merit 858.428.5588
Built by BOSA Development California Inc with a August 2002 completion, Discovery at Cortez Hill is a 22 story luxury residential high-rise located on the Corner of Beech and 8th atop Cortez Hill.
These spectacular view homes are designed to complement Cortez Hill historical charm. 1 & 2 bedroom floor plans of the 199 luxurious downtown San Diego real state high-rise condominiums and stylish two story town homes range in size from 758 to 2450 square feet. Even the smallest condos have large square footage and the oversized windows complement the homes to let in uncompromising views.
Discovery boasts an exhaustive list of amenities including a rooftop Sun Deck containing a state-of-art swimming pool on the 10th floor and spa, Barbeque area, Residents Lounge, Fitness Club, Men's and Ladies Changing rooms, Bike storage area, Office Center and Conference rooms and Elegant entrance lobbies. At ground level, the building entrance opens to an elegant lobby with 24-hour attendant.
Cortez Hill is a distinguished neighborhood whose topography separates it from most of downtowns hustle-bustle yet Discovery is only a few minutes away from scores of recreational facilities; The open air Starlight Bowl at the famous Balboa Park, the San Diego Zoo and Theatre at The Old Globe.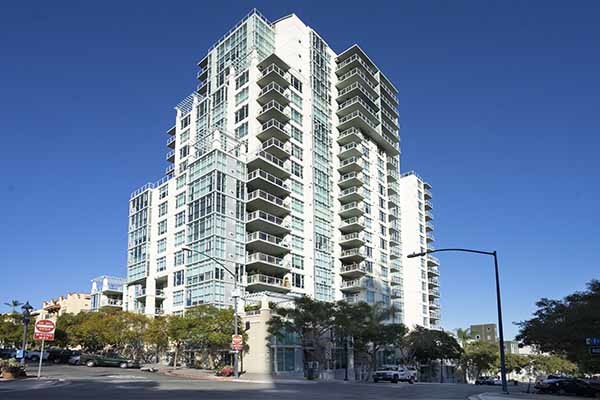 Discovery - Condos & Lofts For Sale:
#203
Price:


$799,000

Beds:
2
Baths:
2
Sq.Ft.:
1,230
Community:
Cortez Hill
Listed:
05/31/2023
MLS#:
230010150
Office Info:
Pacific Sotheby's Int'l Realty
Discovery - Recent Closings / Sales
| Closed | Unit# | Sale price | Bed | Bath | Sqft | Price/SqFT |
| --- | --- | --- | --- | --- | --- | --- |
| 04/04/2023 | #1804 | $1,695,000 | 2+ | 2 | 1,615 | 1050 |
| 03/20/2023 | #315 | $650,000 | 2 | 2 | 1,070 | 607 |
| 03/10/2023 | #207 | $655,000 | 2 | 2 | 1,040 | 630 |
| 02/22/2023 | #517 | $485,000 | 1 | 1 | 850 | 571 |
| 01/26/2023 | #607 | $730,000 | 2 | 2 | 1,070 | 682 |
| 08/16/2022 | #502 | $492,000 | 1 | 1 | 793 | 620 |
| 07/12/2022 | #711 | $825,000 | 2 | 2 | 1,230 | 671 |
| 06/27/2022 | #514 | $855,000 | 2+ | 2 | 1,383 | 618 |
| 04/04/2022 | #705 | $630,000 | 1 | 1 | 781 | 807 |
| 03/24/2022 | #1002 | $805,000 | 2 | 2 | 1,200 | 671 |
| 02/15/2022 | #415 | $646,500 | 2 | 2 | 1,040 | 622 |
| 12/22/2021 | #412 | $710,000 | 2 | 2 | 1,230 | 577 |
| 11/01/2021 | #617 | $500,000 | 1 | 1 | 850 | 588 |
| 08/20/2021 | #1804 | $1,375,000 | 2+ | 2 | 1,615 | 851 |
| 06/18/2021 | #2003 | $885,000 | 2 | 2 | 1,230 | 720 |
Discovery - All Closings / Sales History
Discovery - Available Rentals
#
Price:


$3,750

Beds:
2
Baths:
2
Sq.Ft.:
962
Community:
Cortez Hill
Listed:
07/09/2023
MLS#:
305970822
Office Info:
Coldwell Banker West
#2201
Price:


$4,600

Beds:
2
Baths:
2
Sq.Ft.:
1,519
Community:
Cortez Hill
Listed:
07/20/2023
MLS#:
230014037
Office Info:
Partners Realty of CA, Inc
Discovery - Recently Rented
| Closed | Unit# | Sale price | Bed | Bath | Sqft | Price/SqFT |
| --- | --- | --- | --- | --- | --- | --- |
| 04/26/2023 | #411 | $4,495 | 2+ | 2 | 1,285 | 3 |
| 04/19/2023 | #104 | $3,500 | 2 | 2 | 1,267 | 3 |
| 02/25/2023 | #1603 | $3,750 | 2 | 2 | 1,230 | 3 |
| 08/24/2022 | #811 | $3,900 | 2 | 2 | 1,230 | 3 |
| 06/01/2022 | #104 | $3,400 | 2 | 2 | 1,267 | 3 |
| 10/04/2021 | #104 | $3,200 | 2 | 2 | 1,267 | 3 |
| 07/09/2021 | #1504 | $3,400 | 2 | 2 | 1,230 | 3 |
| 07/01/2021 | #811 | $3,600 | 2 | 2 | 1,230 | 3 |
| 05/17/2021 | #701 | $3,100 | 1 | 1 | 1,015 | 3 |
| 01/10/2021 | #1904 | $4,300 | 2 | 2 | 1,519 | 3 |
| 09/27/2020 | #1002 | $3,000 | 2 | 2 | 1,200 | 3 |
| 09/23/2020 | #409 | $2,500 | 2 | 2 | 1,070 | 2 |
| 08/14/2020 | #1501 | $3,195 | 2 | 2 | 1,230 | 3 |
| 04/29/2020 | #315 | $2,400 | 2 | 2 | 1,070 | 2 |
| 11/20/2019 | #2201 | $4,000 | 2 | 2 | 1,519 | 3 |